During Fair Housing Month, HUD staff in Region X embarked on a three-week van tour of the Pacific Northwest. They logged more than 3,000 miles while visiting 33 cities, many in rural areas of Washington, Oregon and Idaho, bringing the message of equal housing opportunity to people where they live and work.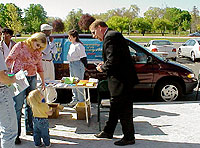 FHEO Specialists Diane West (far left) and Kristina Miller (center) provide information at the van stop in Caldwell, Idaho.


Almost 300 individuals and organizations signed the van's guest register. Countless more were reached from the resulting radio, newspaper and television coverage. In some cities, van staff spread out on foot, delivering a fair housing message to grocery stores, college campuses, advocacy groups and government offices. City officials in 16 communities issued Fair Housing Month proclamations in connection with the van's visit.
At formal kick-off events in Seattle and Portland, industry partners joined HUD Field Office Directors for enthusiastic send-offs. And at a stop in Boise, FHEO Assistant Secretary Peoples, Mayor David Bieter and Field Office Director Connie Hogland spoke to some 50 people attending a fair housing training session.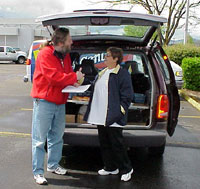 FHEO Specialist Virginia Martinez (on right) answers a fair housing question in Corvallis, Oregon.


One staffer said her most memorable experience was talking to a blind person in Spokane about who she was and what she was doing. The man took a brochure and thanked her for the information because he had some issues to discuss with someone who knew about fair housing.
Another staffer recalled meeting a couple in Wenatchee, Washington. The woman wanted information on how to help victims of domestic violence, and her husband wanted to find ways to use his ministry to help the less fortunate. The couple said the information would be invaluable to them.
And another staffer recounted her experience in community center in Lewiston, Idaho, where the staff had talked to a number of people, many of whom had special needs.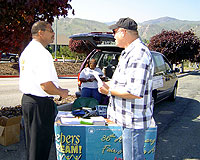 FHEO Specialist Rudolph Ellis (on left) speaks with a client at the van stop in Wenatchee, Washington.
"A bus driver stood nearby just watching and listening to us for about 45 minutes," she recalled. "Then just before leaving, he walked over to me and offered me two dollars. He said 'Here, I want to help; I think you guys are doing good work.' I told him, 'We are not here to receive money, we are with the government and we are here to give out free information about people's civil rights under the Fair Housing Act.' He then picked up a few handouts and giveaways, and said he would spread the word."