West Philadelphia recently gained a sweet new neighbor with the opening of the Sugar Hill Bakery. Kameelah Mu'Min, who started baking at the age of 12 and now lives near the shop, is Sugar Hill's owner.
"Baking is the easy part," Kameelah says. "What was difficult was securing the space, hiring a contractor, and navigating the paperwork for permits and regulations."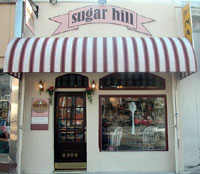 A number of organizations, including HUD, support the Philadelphia Commercial Corridor Revitalization Initiative, which provided support for the Sugar Hill Bakery
That's where she got the help she needed to get things rolling. The University City District is a consortium of local businesses led by the University of Pennsylvania, and part of its mission is to support the commercial districts in the surrounding area.
"Healthy neighborhoods require a diversity of merchandise that reflects the needs of the community," said Eric Goldstein, UCD executive director. Kameelah's business fit nicely with the community needs, which were discovered through neighborhood surveys.
UCD provided support and technical assistance to Kameelah throughout the development process. In addition, they helped her through the permit process and supported her during the project's construction phase.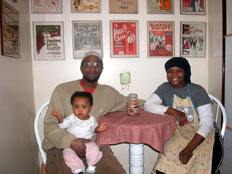 Kameelah Mu'Min and her husband are now fixtures in the West Philadelphia neighborhood. Not only do they own the local bakery, but they live nearby.

And more than once, UCD staffers helped out by shopping for butter and eggs while Kameelah and her husband worked hard in the bakery.
The bakery's opening is part of a larger effort to revive the surrounding commercial corridor and similar districts throughout Philadelphia. The city's Local Initiatives Support Corporation is leading this effort in partnership with community development corporations. The effort, called the Philadelphia Commercial Corridor Revitalization Initiative, is funded in part by grants from HUD, State Farm Insurance and the William Penn Foundation.