"My vision, focus and goal is that Quinault Tribal People will have the same opportunities that any family, anywhere, have to obtain shelter," stated Coni Wilson, Executive Director of the Quinault Housing Authority (QHA) in Taholah, a village on Washington's Pacific Ocean coast.
She continued, "Empowerment of our People through financial management-'mortgage mentality' and 'credit culture' has to overcome a hundred years of inadequate, sometimes substandard, homes. The ability to achieve the American Dream of homeownership is slowly coming to Indian reservations, but we will get there."
Ms. Wilson, who has worked for the QHA for over 30 years, spoke on the occasion of the tribe's first-ever Homeownership Fair and Open House. The daylong festivities started with approximately 150 persons-tribal members, housing industry professionals, representatives from lending institutions and federal agencies-attending dedication ceremonies for the Tribe's newest village, Quinaielt Village.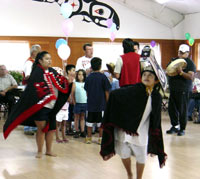 Quinault Tribal members performed traditional dances during the dedication ceremonies


Following the dedication, which included blessings, a celebration through dance and drums, and a traditional salmon luncheon, Tribal members and guests were given the opportunity to tour the first twelve homeownership units currently being completed in the new village. This new subdivision has infrastructure in place for 40 housing units and enough adjacent land for at least 40 more homes.
Homes will be purchased utilizing HUD's Section 184 Indian Housing Loan Guarantee Program-a non-subsidized, mortgage program that accommodates both the sovereignty of tribes and the unique Trust status of tribal land. The QHA has also created a Homeownership Voucher Program that may be utilized in conjunction with the Section 184 Program to assist tribal members to become homebuyers.

Open House visitors check out one of the new homes in Quinaielt Village.

Prior to entering the homeownership program, tribal members will be required to complete the QHA-sponsored credit counseling, financial planning, and homebuyer education counseling program.
"The Housing Fair was very well received by Tribal and non-Tribal people," Ms. Wilson added. "They want one every year. This means we must always have homes developed and available for an open house to maintain their enthusiasm."
The happy smile on Kiersten Pope's face is two fold: she has just won a new power lawn mower in a door-prize drawing during the Quinault Housing Authority's Open House and Homeownership Fair; and, she will soon be able to use it on the lawn of her new home. The Popes are one of the first families chosen to become homeowners, using HUD's Section 184 Indian Housing Loan Guarantee Program, in the Tribe's new Quinaielt Village.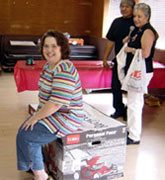 Coni Wilson, Executive Director of the Quinault Housing Authority, watches as Kiersten Pope, a proud new homebuyer, enjoys her door prize.

Mrs. Pope, whose husband, Fred, is a Quinault Tribal member and a schoolteacher at the Quinault School, works for the tribe's Temporary Assistance for Needy Families (TANF) Program. The Popes, who have one child, currently rent a small modular home, and they are looking forward to moving into one of the new homes and becoming homeowners. They have been pre-qualified for the new program, and are just awaiting an appraisal on the home so their application can be finalized. Both Fred and Kiersten are proud graduates of QHA's Financial Management course.