June 25 was a "beauty-full" day in Danville, Virginia, and not just because of the weather.
At the James Slade Building in the Seeland Crossing HOPE VI revitalization area, ten public housing residents strode in caps and gowns across a stage to accept diplomas in cosmetology, and celebrate their membership in the Center for Cultural Arts "Class of '04," the Center's very first.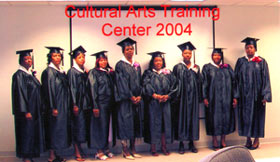 "Nobody can ever take away what you've done," Danville Authority Executive Director Daryl Dalton told the Center's initial graduating class


Owned and operated by the Danville Redevelopment and Housing Authority, the Center is funded by tuition and a HUD Resident Opportunity Self Sufficiency Grant.
To graduate, each student completed 1,500 hours of classroom and on-the-job instruction. And, in the weeks right before graduation, they began studying for their State boards.
"I think we're the best thing since hot butter," Center Director Jean Hinton told The Danville Register-Bee. "We're really proud of this school."
The graduates agree. "It was a big accomplishment," said Traci Stamps. "I wanted to go to school full-time and take cosmetology," added Kimani Moore. "This was the only school that would work with me." Both women already are being courted by local employers, and both hope to open their own salons one day.
Fulfilling a promise to the city, the Center's training is open to all city residents, not just those who come from public housing. Tuition is $3,000 a year, but scholarships are available. Though summer has just begun, people are already registering for classes this fall.
"Given our success this year," notes Dalton, "I don't believe we'll have anything less than a full house in 2005, 2006 or the years beyond. In fact, after just one year and one graduating class, we're already looking for a bigger space."