It was a long journey from Mexico to homeownership, but hope and perseverance won out for one North Little Rock family.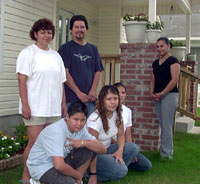 The Telles' neighborhood is in the midst of an award-winning revitalization, helped along by people such as Elizabeth Rodriguez (right), who teaches homebuying classes.


Vincent and Maria Telles are proud new homeowners on Schaer Street in the historic Argenta neighborhood. The couple's journey to North Little Rock began when they left their native Mexico seeking a better life. They originally settled in Chicago, though later relocated to North Little Rock. Along the way their family grew with the births of their children -- Erica, Mayra and Armando.
The family's desire for homeownership became more than a dream when Vincent and Maria toured new home construction taking place. With guidance from a local real estate agent, the Telles enrolled in a HUD-funded homebuyer education class conducted in Spanish at the local NeighborWorks HomeOwnership Center. Soon they were picking out their floor plan, selecting kitchen cabinetry, floor coverings and house paint.
Their home is in a once-declining area now in the midst of an award-winning revitalization. New and renovated homes line the street, along with broad sidewalks and bright streetlights that help inspire the new sense of neighborhood pride. The Telles' manicured lawn, budding flowerbeds, colorful planters and wind chimes now add to the neighborhood atmosphere.
The Telles are living the American dream. Through the help of their housing counselor they learned about budgeting, saving money and recognizing the difference between wants and needs. Using the skills they learned in the homebuying class, they were able to save for a down payment and buy the home of their dreams in the a friendly and safe neighborhood.