When Catherine and Trevor Smallwood purchased their home last year in Pompton Plains, New Jersey, they noticed a commemorative plaque by the front door, but the full historic significance of the property "didn't compute." They now know that their home on Hopper Avenue was the first house in the nation insured by the Federal Housing Administration (FHA).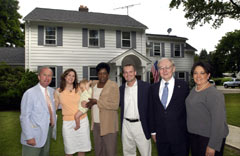 Pictured at the ceremony, from left: Rep. Frelinghuysen, Catherine Smallwood, her son William, HUD Newark Field Office Director Diane Johnson, Trevor Smallwood, Assistant Secretary Weicher, and HUD Regional Director for NY/NJ Marisel Morales.
On June 28, 2004, Assistant Secretary John Weicher joined Rep. Rodney Frelinghuysen and other federal and local officials for a recognition ceremony at this historic house. This was one of the final New Jersey events in honor of President Bush's declaration of June as Homeownership Month. Exactly 70 years before, on June 28, 1934, the National Housing Act was signed into law by President Roosevelt, creating the FHA.
During the ceremony in Pompton Plains, Assistant Secretary Weicher and Rep. Frelinghuysen announced $4.4 million in funding to 21 New Jersey communities to create homeownership opportunities for hundreds of low- and middle-income families. The funding emanates from the American Dream Downpayment Act, recently signed by President Bush.
"The single greatest obstacle to homeownership is the downpayment and closing costs," said Weicher. "This program will give first-time homebuyers downpayment assistance grants up to $10,000 or six percent of the home's purchase price, whichever is greater. Not only will these grants help to defray the upfront costs of purchasing a first home, they can also be used to help offset the costs of rehabilitating the property."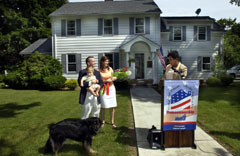 HUD Newark Office Director Diane Johnson presents flowers to the Smallwoods.

"The value of FHA cannot be overstated!" said Rep. Frelinghuysen, whose work in Congress includes authoring legislation to expand FHA's loan limits. "For decades it has insured mortgage loans to help over 33 million families own their own home. The FHA has continuously been a critical resource in helping make homeownership available and more affordable and I am very pleased HUD Assistant Secretary John Weicher has brought with him such wonderful good news for New Jersey's first-time homebuyers."
Also attending the event were HUD Regional Director Marisel Morales, and HUD Newark Field Office Director Diane Johnson. Joining homeowners Trevor and Catherine Smallwood from the neighborhood was Dick Tallman, who was just a boy when he watched the house across the street being built in 1934. Little did he know that history was in the making, and that 70 years later, he would attend a ceremony to mark that notable construction.