"There are all kinds of housing opportunities available to Native Americans," said Carina Kistler Ginter, event organizer. "But we are afraid that not all of them are getting the message."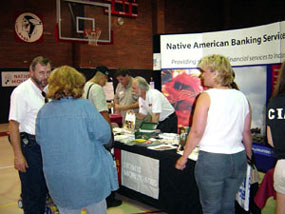 Fair visitors take the opportunity to collect information on housing programs from lenders, public housing agencies, tribal housing authorities, and other housing related vendors.

Representatives from four tribes--Grand Ronde Indian Tribe; the Confederated Tribes of Siletz Indians; the Confederated Tribes of Warm Springs; and the Confederated Tribes of Coos, Lower Umpqua and Siuslaw-worked together to plan and present the first-ever Oregon Native American Housing Fair, held at the historic Chemawa Indian School, in Salem, Oregon.
The fair was seen as a way to reach out to the Native American community and invite them to see what housing options are available to them.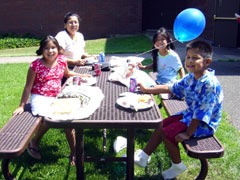 The organizers estimated that around 200 tribal persons visited the fair where they enjoyed a picnic lunch, entertainment, and a wealth of housing service offerings.
All Native Americans of any tribal affiliation were welcome at the fair. "We had representatives from 27 different tribes register while attending the event," Ms. Ginter continued. "Comments from participants' and information table staff members indicated that they felt it was an excellent housing availability venue. Many of those present mentioned it was a very good way to start communications between housing service providers and the tribal members who needed housing services."
A Family's Home Is Its Castle
Children of the fair-goers were additionally entertained so parents could attend training workshops on a variety of homeownership and rental programs and grants designed for Native Americans. Workshops focused on loan qualifications, how to avoid predatory lending, credit counseling, home inspection, and many other relevant topics.