Meeting the challenge of providing affordable housing in the high cost Seattle metropolitan area takes partnership, creativity, and commitment. HomeSight, a non-profit organization that works to provide working families the opportunity to become homeowners, stepped up to the challenge with its Kokanee Creek development in Everett, Washington, just north of Seattle.


| | |
| --- | --- |
| The first floor of a townhouse is lowered into place at Kokanee Creek. The project, which uses manufactured two-story townhouses, includes special loans to help low-to-moderate income people become homeowner. | Prospective first-time homebuyers discuss financing with realtor at Kokanee Open House. |
Kokanee's homes were literally lifted into place by a giant cranes. Using two-story manufactured townhomes built in Hermiston, Oregon, HomeSight was able to shave 20 percent off the cost of construction, while providing affordable, structurally sound, and aesthetically pleasing homes.
"We realized there's not enough land in the area and that a single-family house was often too far out of the financial reach of low- and moderate-income people -- the teachers, maintenance workers, and even college professors who were not making a lot of money," said Tanesha Van Leuven, HomeSight's Marketing and Resource Development Manager.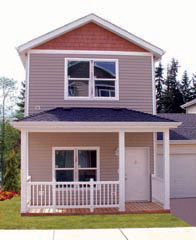 Completed two-story manufactured townhouse condominium at Kokanee.


"We really needed to think out of the box, so we looked for new ideas and settled on one from the East Coast -- manufactured townhouses. Our twist to increase affordability is that they are condominiums. This is a first in the nation."
"Help from the Housing Authority of Snohomish County (HASCO), which sold the land to HomeSight, and HUD's waiver to permit both the construction and offering of FHA mortgage insurance on two-story manufactured homes was critical for the success of this project."
Kokanee offers 35 affordably priced 3-bedroom homes from $179,000 - 217,000 targeted to first-time buyers. "HomeSight was one of the first developers in the country to use multi-story manufactured housing developments," said Dave Rodgers, HUD Single Family Specialist. In 2003, HomeSight's Noji Gardens won the HUD Secretary's Award for Excellence and in 2002 the Manufactured Housing Industry's Subdivision of the Year.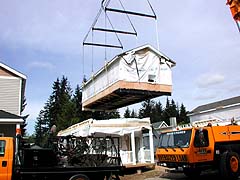 Second story of townhome is craned into place.
To make homeownership a reality, HomeSight sells the homes at cost, offers one-stop shopping for all real estate financial needs including the first mortgage, financial coaching, low interest loans, and up to $65,000 in purchase assistance to qualified buyers. Purchase assistance is possible through HomeSight's Puget Sound Homeownership Revolving Loan Fund, The Ford Foundation, Community Development Financial Institutions Fund, the Housing Authority of Snohomish County, Snohomish County, the State of Washington and the Federal Home Loan Bank of Seattle.