In FY2000, HUD developed a Quality Management Review Program to assess the efficiency and effectiveness of various field office activities. Each year, exemplary performances are recognized by the Department. Over the next month, each of these exemplary practices will be recognized in the Daily Focus Message.
Management and Oversight of PHA IPA Audits (Review Checklist)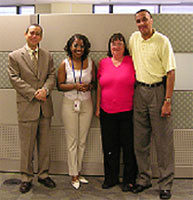 Gregory C. Nunn, Financial Analyst
Darlene Austin, Financial Analyst
Carolyn Fisher, Financial Analyst
Kirk Young, Financial Analyst (who is no longer with the Department)
Baltimore Field Office, Baltimore, MD.
This exemplary practice has resulted in the development of a review technique and process by HUD Public Housing Managers and staff that has enhanced oversight of IPA audits and improved assurances of effective financial management controls. This checklist was included as a requirement in the FY 2003 Management Plan for Public Housing Field Office managers and supervisors to examine and guide the level of review that employees give to IPA audits.