Northwest Louisiana has been blessed with an extended Indian summer this year. And the hundreds of volunteers that showed up in support of the 10th annual Operation Stand Down did not miss the cold and dreary days that have typically coincided with this event.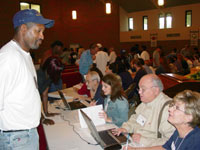 Volunteers assist "Michael" at the intake area

A homeless man receives a medical screening from Stand Down volunteers.
The homeless clients, who included many veterans this year, received haircuts, medical, dental and vision exams, food and clothing, and access to social services throughout the community. New services available included substance abuse and mental health counseling.
A plan to end chronic homelessness within ten years in Northwest Louisiana was unveiled in January 2004 by the Mayor of Shreveport and supported by HOPE for the Homeless, a major sponsor of the Stand Down since its inception. Other sponsors were Overton Brooks VA Medical Center and the Salvation Army, who has graciously hosted the event each year.
An important new service was the intake process that partnered a social worker with a computer programmer. The system, ServicePoint Homeless Management Information System (HMIS), identifies needs and characteristics of the homeless in the community.
ServicePoint, developed here in northwest Louisiana, allows client intake and assessment through any HMIS provider in the regional continuum of care. It also serves as a case management tool that tracks client-specific goals and outcomes changing over time.
There are numerous beneficiaries: Homeless and indigent clients, who receive services more efficiently; the service providers, who can track data across programs and systems; and the aggregate system policy makers, who for the first time have clear data. This now includes Congress, who will receive an aggregate report in January 2005 on the characteristics of this population from across the country.
So this year's Stand Down is special beyond the 10-year endurance test: It demonstrates the community's forward-thinking philosophy that says it's time to stand up for the homeless and disenfranchised in our community.