Alene Howard has family in Lubbock, but she admits to sometimes being lonely, but the Lubbock Interfaith Volunteer Caregivers Program (LIVCaP) is reaching out by organizing visits with her at least once a week. Ms. Howard has been receiving visits for about three years.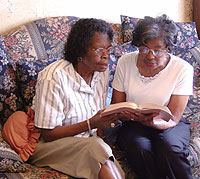 Alene Howard and Erma Jean Johnson read from the Bible during a recent visit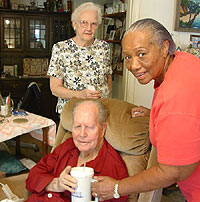 Volunteer Mary Paul with the Hagars
LIVCaP, a Faith in Action program, is supported by a coalition of 11 churches and over 100 volunteers who provide services to the elderly and disabled, such as phoning, visiting, business help, respite assistance, shopping, and transportation. LIVCaP volunteers serve about 125 clients each year.
Vernon and Ozella Hagar benefit mostly from respite assistance. Because of Mr. Hagar's failing health, he is required to have "around the clock" care. His primary caregiver is Mrs. Hagar. Thanks to the LIVCaP, Mrs. Hagar receives four hours per week of respite assistance from volunteer Mary Paul. This relief allows Mrs. Hagar to do grocery shopping, pay bills, and take care of other duties away from home.

In 1998, the Robert Wood Johnson Foundation granted the original $25,000 for the LIVCaP. Later, through the sponsorship of the YWCA, the organization received HUD CDBG funding through the City of Lubbock and the CH Foundation. They also seek private funds and additional churches to join the coalition. The only requirements for volunteers are that they must be willing to serve others and attend training.
As for Ms. Howard and the Hagars are concerned, the LIVCaP is a Godsend and they are thankful to HUD and others for funding the program that improves the quality of life for the elderly and the disabled.