Three visits to Tennessee in three months by United States Interagency Council on Homelessness (ICH) Director Philip Mangano and HUD ICH Atlanta Contact, Michael German, have placed most urban areas of Tennessee into the framework to construct new ten-year plans to fight chronic homelessness. HUD's Nashville Field Office staff accompanied Mr. Mangano on all of his visits to middle Tennessee and worked with communities in developing the plans.

Clarksville's Mayor Don Trotter and ICH Director, Philip Mangano during the Announcement of Clarksville's commitment.


Memphis, Chattanooga, Knoxville and other Tennessee cities are now aligned to fight chronic homelessness, and President Bush's appointee, Philip Mangano, has led the way to encourage Tennessee officials, mayors, and community advocates to become part of the nationwide effort - now endorsed by hundreds of municipalities.
In October, after a successful visit to Knox County Officials, the pair met with Clarksville Mayor, Don Trotter, where a commitment by Clarksville was made to develop a plan. However, the planning process for Nashville was announced December, 2003, when Mr. Mangano met with Mayor Purcell during a National League of Cities event held here. Later than month, Mayor Purcell announced his commitment to develop a plan.
Last week on December 9, 2004, Mangano appeared again in Nashville to visit with the staff of Operation Stand Down, a homeless veteran's support agency and with the Campus of Human Development, a primary homeless provider. After these visits, he supported Tennessee Governor Phil Bredesen as he signed an Executive Order creating the Governor's Interagency Council on Homelessness, which will prepare Tennessee's ten-year plan.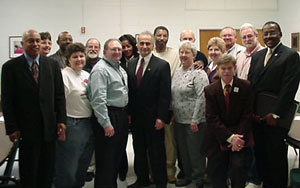 The staff of Operation Stand Down with Mangano and HUD-Nashville Staff who met to discuss veteran's issues at Edgehill Towers.


The final blitz came today, December 16, 2004, as he visited Nashville to attend Mayor Purcell's Affordable Housing Summit in Nashville. Purcell officially implemented the recommendations made by a year-long study of the Mayor's Chronic Homelessness Taskforce, spearheaded by Metro Social Service's Dot Shell-Berry, MDHA Director Phil Ryan, and the Office of Affordable Housing's Hank Helton, and countless community leaders and homeless advocates.
Tennessee is now in alignment with most of the country to end chronic homelessness by developing constructive and achievable goals. The ICH homepage, seen at www.ich.gov is composed of some 25 federal agencies working together to help end homelessness in America. "Neighbors helping neighbors is the reason behind today's plan," said Mr. Mangano. Some 200 persons attended today's event at the Nashville Public Library.
And do you think it's all over? "It's about to end, that is - chronic homelessness is going to end," said Dot Shell-Berry. One thing is for sure; it's not over for Mangano. Even today, Mr. Mangano made a trip to Murfressboro to meet with city officials. Wonder what's on his agenda now? Which city is next?