Organizations in Kent County are pooling their knowledge to collectively combat homelessness with a ten-year "Vision to End Homelessness" plan. This strategy allows groups to coordinate efforts and prioritize projects to effectively attack the issues that lead to homelessness.
The Grand Rapids HUD office hosted a press conference on Wednesday, December 15 to bring attention to those efforts and to highlight the accomplishments that have already occurred thus far through the use of departmental funding of nearly $3.4 million awarded last year. Louis M. Berra, FOD gave highlights of the Administration and HUD's homeless assistance programs that focus on resolving the nation's chronic homeless crisis by 2012 as well as the Department's desire to work with communities together.
Representatives from the Grand Rapids Area Housing Continuum of Care, Community Rebuilders and Dwelling Place, Inc. spoke to congressional representatives from Senators Levin and Stabenow and local media newspaper, radio and television personnel about the types of programs currently in place and the plans underway that will alleviate homelessness in Kent County.
| | |
| --- | --- |
| Ron Eberhardt, Director for Community Rebuilders speaks to the media and other attendees about "changing the face of homelessness". | VA Health Care for Homeless Veterans program Office Manager, Brian Gripentrop talks about HUD's accomplishments. |
These organizations agree that prevention is the most cost-effective way to curb homelessness. Often times, it is the one-time assistance needed with just a few hundred dollars to keep families and/or individuals from entering into homelessness. It is also important for people to be aware that the largest population of homeless aren't the faces you see on the streets, but those living in cars or with friends or family that you don't know about or see. Recent facts indicate a startling 65 percent of the homeless population in Kent County are women and children with the largest group of homeless being children at 36 percent. In addition, up to 25 percent of the homeless are veterans.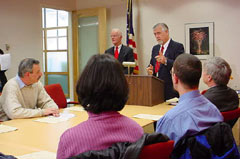 Tom MacDonald tells the audience how Dwelling Place, Inc. provided him the stepping-stone he needed to put his life back on track.
Tom MacDonald, a naval veteran and resident of the Ferguson Renaissance Center operated by Dwelling Place shared his story of how he was living in his car before coming to live at Ferguson and how the supportive services they provide has allowed him to "get my life back." In a display of patriotism, he also talked about how a cable for the American flag located on the roof of the Ferguson building had broken and how important it was to he and the other 40+ veterans at Ferguson to see that the American flag fly atop their building. After an attempt by the Fire Department failed to reach the distance, a gentleman from the Flying Dutchman Flag Company read about their plight and shimmied his way nine feet up the flagpole to restore the flag to fly proudly, once again.