The Foster Heights public housing development in Monroe just celebrated its 50th birthday by receiving a major "facelift".

The Monroe Housing Authority just completed a $4 million dollar renovation.


Built in 1954 as one of the first assisted housing developments in the city, Foster Heights has been home to many Monroe residents through the years. Affectionately known as "the foster home" to its residents, a homecoming ceremony was recently held at the development to celebrate its complete renovation and the achievements of the people who once called it home.
John Anderson was one of several former residents who returned to tell their story about growing up at "the foster home". John and his family moved into the development in 1958. He remembers living without air conditioning and taking detours around a large drainage area when it rained because there was no culvert. With a $4 million dollar renovation just completed by the Monroe Housing Authority, current residents now enjoy all the modern conveniences, including air conditioning and community facilities that were not available to John.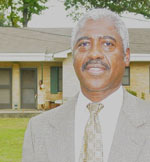 John Anderson, the City's Director of Community Affairs, lived at "the foster home" as a child.

Anderson also recalled many of his friends who lived in adjacent units and how they formed life-long friendships. Those friends went on to become pilots, military officers, and builders while John pursued a successful career in financial management.
After graduating as valedictorian of Carroll High School in 1966, he attended Howard University and obtained his bachelor's degree in accounting. He lived and worked in Washington D.C., Atlanta, and New York City, before returning home to Monroe in 1996 to become the Director of Administration for the city. Since 1999, he has served as the Director of Community Affairs. John administers a $9.2 million budget and manages more than 200 employees.
Although John and his friends came from humble beginnings, this did not prevent them from reaching great heights in their personal and professional lives. Thanks to the efforts of the Monroe Housing Authority, the Foster Heights public housing development has also reached new heights. It is once again a place people are proud to call home and is providing decent, affordable housing to another generation of residents, who like John and his friends, will have the opportunity to make a positive impact in their community.