Its long been said that dogs are man's best friend. Dr. John Tinsley, a Claiborne Parish veterinarian, would certainly agree with this statement. He brings his chocolate lab, Gracie, to work with him every day. Recently, however, Dr. Tinsley discovered a program that closely rivals Gracie for his affections. It's the Community Renewal and New Markets Initiative and it is helping Dr. Tinsley and his partner, Dr. George Gamble, provide enhanced services to their four-legged clients throughout the Claiborne Parish area.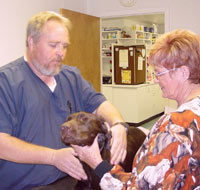 Dr. Tinsley examines Gracie with help from his assistant.
The Community Renewal and New Markets Initiative, enacted in 2000, created opportunities for distressed urban and rural communities to engage in economic and social renewal. This initiative, through federal grants, tax incentives, and partnerships with government is helping to expand existing businesses and open new ones. It is also creating new jobs and new educational and healthcare opportunities for many Americans.
When the Northern Louisiana Renewal Community was designated in December of 2001, Drs. Tinsley and Gamble contacted their CPA to inquire about the program. They were advised that their business could greatly benefit from the tax-incentive package offered by the program.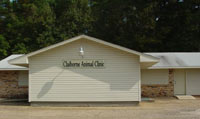 The animal clinic was remodeled and enlarged with help from the Community Renewal Initiative.

Working with their CPA, they developed and implemented a plan to refurbish and expand their animal clinic. They completely remodeled much of their existing facility and added an additional 950 square feet of space. The addition enabled them to double the size of their boarding facility. As a result, their business grew substantially and an additional employee was added to their staff. "This program is a great tool for small business," said Dr. Gamble.
It's hunting season now in Louisiana and Dr. Tinsley and Gracie are avid duck hunters. When they are not out on area lakes and bayous enjoying North Louisiana sunrises and sunsets, you can find them both at the Claiborne Animal Clinic in Homer. Thanks to the Community Renewal Initiative, business is good.