Secretary Alphonso Jackson, Senator Kay Bailey Hutchison, and Mayor Bill White joined local dignitaries in Houston recently to celebrate a record homeless award for the state.
At an event hosted by The Star of Hope Transitional Shelter in Houston, the Secretary presented awards of over $64 million to homeless organizations throughout Texas. The record funds both advance and reaffirm the Administration's and the Department's commitment to end chronic homelessness.
"President Bush is deeply committed to supporting our most vulnerable neighbors," said Secretary Jackson. "This unprecedented level of funds will go directly to those on the front lines, who work tirelessly everyday to bring an end to chronic homelessness."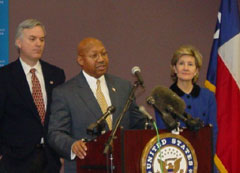 Secretary Jackson announces HUD funding for the homeless as Senator Hutchison and County Judge Bob Eckles look on.

And to the front lines is where the Secretary came to show his support. The Star of Hope Transitional Living Center is part of the Houston/Harris County Coalition for the Homeless, which received awards of almost $19 million.
Star of Hope directly serves over 100 homeless families and women to provide a safe living environment, job training, and social services that lead participants to self-sufficiency. The program literally brings hope to the homeless by giving participants the tools to help themselves, with an astounding 90% success rate!

Star of Hope serves over 100 homeless families and women.

Star of Hope's status as a successful faith-based organization also highlights the Administration's efforts to help service-oriented nonprofits deeply rooted in local communities. The organization itself received an award of almost $1.2 million.
While in Houston, the Secretary also visited with HUD employees, thanking them for their efforts to bring programs and services into the communities they serve. With Star of Hope and hundreds of organizations like it, HUD employees play a key role in bringing that hope to those who need it most.