Fort Worth's managers and supervisors played a leading role in the 2005 Black History Month celebration. The events began with a fascinating "History of Black History Month" talk by E. Ross Burton, Director of the Fort Worth Multifamily Hub.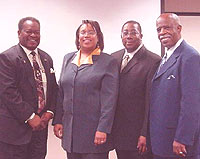 The theme for Fort Worth's celebration was The Niagara Movement & Booker T. Washington. Participants for the kick-off included (from left) E. Ross Burton, Jerlinda Banks, Thurman Miles and Donald Babers.
Jerlinda Banks, Regional Labor Relations Officer and Thurman Miles, Director of the Fort Worth Program Center, discussed Booker T. Washington's Atlanta Compromise and the Niagara Movement.
During the second week in February, everyone in the office got a chance to compete in the HUD Family Feud by studying 100 questions and answers on Black history. In the first round, the team from the 25th floor (ARD, ITT, Contracting, and EMAS) beat the 26th floor (Public Housing and Accounting); and the 27th floor (Fair Housing and Multi-Family) beat the team from the 28th floor (CPD, Labor Relations, Legal and the Regional Director's Office).
During the third week in February, in a HUD Family Feud play-off, the 25th floor competed with the 27th floor for the championship. The team from the 25th floor won top honors.
Then came the finale. During a multi-ethnic Soul Food Luncheon, all of the Black managers and supervisors were introduced as our "HUD Living Legends". Just about everyone got to know someone new during this part of the program.
Holly Gulley was the mistress of ceremonies; Patricia Aiken offered the invocation; Yasmin Chambers sang a gospel song and Wil'Lwin Wallace sang a classical piece. The highlight of the luncheon entertainment was a medley of songs by Ray and the Family, a multi-ethnic music group.
Program Participants
1st Week - "The Niagara Movement"
Speakers: E. Ross Burton, Jerlinda Banks and Thurman Miles

Participants: Carrie Dobbins, Donald Babers, Al Braggs and Yasmin Chambers

2nd and 3rd Weeks - HUD Family Feud Game
Game Officials: Jesse Rice, Gayla Frazier, Holly Gulley, Ernest Worsham, Debbie Holland, Terrie Laird, Wanda Holiday and Gail Avery.

25th Floor Family: Yasmin Chambers, Deborah Schuyler, Donald Darling, Richard Gooden and Elizabeth Oduor. (lst Place Family)

26th Floor Family: Quentin Lewis, Phil Jones, Carrie Dobbins, Lorna Blue and Michelle Griffith.

27th Floor Family: Rayford Johnson, Johnnie Young, Karen Davis-Raab, Shirley Bearden, Darlene Freeman, Patrick Banis and Terry German. (2nd Place Family)

28th Floor Family: Linda Hadley, Jerlinda Banks, Joyce Ingram, Oneita Jackson and Leona Mincie.

4th Week - Soul Food Luncheon and Program
Participants: Holly Gulley, Donald Babers, Don Darling, Pat Aikens, Darlene Freeman Carrie Dobbins and A. Cynthia Leon.

Vocalists: Yasmin Chambers, Wil L'Win Wallace and "Ray and the Family".

Living Legends: Alvin Braggs, Carrie Dobbins, Deborah Patton, Denise Shivers-Smalls, Donald Babers, Ernest Worsham, E. Ross Burton, Geneveve Banks, Jerlinda Banks, Katie Worsham, Lorraine Franklin-Stell, Otis Jones, Pat Aikens, Rayford Johnson, Sakeena Adams, Thurman Miles, and Yasmin Chambers.
Thanks to all HUD Fort Worth Office employees for your support and participation!