The Muldoon Home Opportunity Fair helps Anchorage residents overcome sky-high home prices to achieve their dream of homeownership

Mayor Mark Begich presents a proclamation declaring April as Fair Housing Month in Anchorage to Barb Worley, Anchorage Neighborhood Housing Services and chair of the Home Opportunity Fair organizing committee.

"It's all right here, all the information is right here. So it really helps people rather than going through the phone book and trying to look it up in the newspapers and what not," said Darryl Salisbury, a shopper at the Home Opportunity Fair that took place in Anchorage on Saturday, April 2.
Making the rounds of banks, mortgage companies, insurance agents, home inspectors, government agencies, and non-profits that help lower-income families into homes, Salisbury joined nearly 300 individuals and families who came to the Fair. They got information on down-payment assistance, weatherization programs, home loans options, and spoke with realtors and insurance agents about what to expect when shopping for a home.
Offering free credit reports at the Fair, Consumer Credit Counseling Services of Alaska sat down with prospective homebuyers to review their credit. CCCS counseled them on necessary actions to clear their credit histories or offered advice on their next steps in the homebuyer process. Alaska Housing Finance Corporation offered information about their homebuyer-counseling program and loan guarantee programs, particularly for first-time homebuyers, as did HUD, with information on FHA and Section 184 (Native American) loan guarantees, fair housing and other programs. IRS and AARP teamed up to offer free tax preparation as well as information about the Earned Income Tax Credit.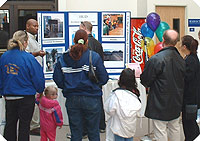 Sean Robinson, HUD's Single-Family representative, talks to prospective homebuyers at the Anchorage Home Opportunity Fair April 2.

Anchorage Neighborhood Housing Services and Cook Inlet Housing Authority, the Native housing authority for the Anchorage area, both offered information on their home purchase programs as well as programs they offer on behalf of the Municipality of Anchorage. Habitat for Humanity recruited families for their homes. The Anchorage Equal Rights Commission offered information about fair housing.
At the height of the fair, the city's Mayor Mark Begich arrived to present the Home Opportunity Fair organizing committee with a proclamation declaring April Fair Housing Month in Anchorage.