Alma Tilley said goodbye to her landlord as she prepared for the next chapter in her life as the new owner of a three-bedroom, two-bath home in Tyler, Texas.
Ms. Tilley, 60, has worked at East Texas Medical Center for the last 25 years and is raising two granddaughters - one attends Tyler Junior College and the other has plans to go once she graduates from high school.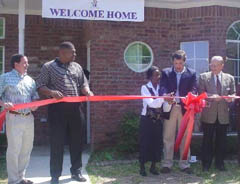 Alma Tilley cuts the ribbon on her new home in Tyler, TX.
Ms. Tilley was chosen as the recipient of the first house based on several criteria. "She was one of our top candidates," Tyler Housing Services Manager Andy Davis said. "Ms. Tilley completed our homebuyer education program and was a housing choice voucher recipient who qualified for the city's new program to encourage homeownership."
Under the program, the City takes donated and tax foreclosure lots, constructs new affordable homes and then sells the homes to low- and moderate-income citizens.
The program, now in full swing, is expected to have a positive economic impact for mortgage companies, realtors, title companies, appraisers, inspectors, etc., and a positive long-term impact on Tyler's tax base. However, the biggest winners are actually the neighborhood and the low- and moderate-income family whose quality of life is changed forever.
Priority is given to families participating in HUD's Housing Choice Voucher Program. This program helps very low-income families, the elderly, and the disabled to afford decent, safe, and sanitary housing in the private market. The rental assistance is instead used for mortgage payments.
The City of Tyler used HOME funds for the construction of the home. Davis and his development staff coordinated the home construction, homebuyer education and loan approval process.
Even though the endeavor took about eight months, Alma Tilley agrees that the result was well worth it.