Homeownership in the Texas Lower Rio Grande Valley is alive and well, thanks to a partnership between the Community Development Corporation of South Texas (CDCST), Tejas Community Credit Opportunities Inc. and Amigos Del Valle Inc.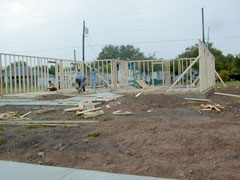 House in progress.
The opportunity arose when Tejas Credit Opportunities Inc. and Amigos Del Valle Inc., each received a Rural Housing and Economic Development (RHED) grant but encountered difficulties in allocating their funding. Consequently, the projects stalled. To jump-start the projects, two San-Antonio HUD officials - Marinella Murrillo, Community Planning and Development (CPD) Representative, and Richard L. Lopez, Program Colonias Specialist Office of Departmental Operations and Coordination (ODOC) - facilitated a collaborative working session with local nonprofit leaders.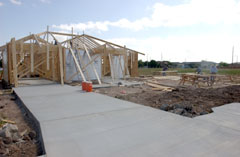 House in progress.
Through this collaborative effort Richard and Marinella brokered a community-based strategy that prevented the recapture of RHED grant funds. The solution provided the opportunity for Tejas to provide long-term flexible financing while Amigos Del Valle provided principal reduction in the form of forgivable loans. The strategy also introduced CDCST as a joint lender and general contractor. This solution proved successful in deploying the RHED funds and increasing affordable housing opportunities in two rural Hidalgo communities.
The community-based strategy resulted in the following accomplishments:
CDCST constructed 23 new single-family homes in the rural communities of Elsa and Mercedes.
Tejas and CDCST originated below-market mortgages in excess of $2.1 million.
Tejas and CDCST leveraged over $745,000 in public and private financing.
CDCST and Amigos del Valle originated $160,000 in forgivable loans for principal reduction.
CDCST provided over 90 hours of homebuyer education and counseling.
Due to the collaborative effort of Richard and Marinella, local officials and community-based organizations funding was leveraged, and technical assistance was provided that resulted in 23 families to become new homeowners.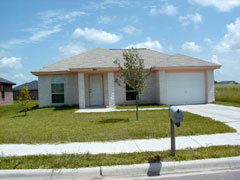 A finished house.