On June 7, 2005, the Black Contractors Association of San Diego (BCA) President Abdur-Rahim Hameed thanked HUD representatives: Frank Riley, Field Office Director, Myrna Pascual, Operations Specialist, and Ray Richardson, Economic Development Specialist, for a ceremonial check showing $700,000 to fund its Youthbuild program. Over the three years of the grant, some 200 youth, mostly high school drop-outs from disadvantaged backgrounds will receive building skills training and continue their education to either graduate from high school or obtain their GED. Most of all, they will be given guidance and support for a future of success. Having already completed an excellent Youthbuild grant, the BCA's new program is the result of strong partnerships and broad community support. Major partners include: San Diego Youth At Work, San Diego Housing Commission, San Diego Community College District, San Diego County Office of Education, Neighborhood House Association, Ralph Bunche Center, Black IP, San Diego Logan Heights Family Health Center, The Palava Tree, Inc., and Homey's Youth Foundation.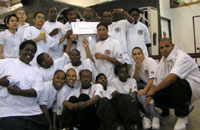 Black Contractors Association of San Diego Youthbuild participants with their $700,000 check from HUD.
The event, which was literally kicked-off with the drills of the some 30 youth enrolled in the first cycle, was attended by partners, parents, community leaders, government officials, and staff of the BCA. Speakers, who had similar backgrounds as the youth, spoke in moving words of their own roads to success and the importance of taking full advantage of the opportunities the BCA's Youthbuild program provides: job training that will lead to careers in the building industry, enhanced self-esteem, and social skills, as well as educational achievement.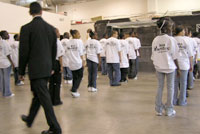 Youthbuild participants kicked off their celebration with a marching drill.
Mr. Hameed emphasized the need to give youth the opportunity to succeed and the strong staff the BCA has to help them through this program and beyond. A highlight of the ceremony was T. Mercer, one of the participants, reading his poem, especially the following lines:
"So if I ain't in Youthbuild I'll be back on tha streets
YouthBuild is a steppin' stone
That's what I need..."