A unique project is underway in the City of Crossville. For the first time in the State of Tennessee a PHA is directly involved in the development of a hospice, that will ease terminal patients in their final days. The Crossville PHA, is building the Cumberland House facility using capital funds and reserves, and will administer admissions for the new property that will be staffed and managed by a local nonprofit hospice organization. Public housing residents will receive first priority at the 4,067 square foot handicap accessible building that will consist of six residential rooms. The Cumberland House expects to open its caring doors by February, 2006.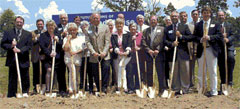 State and community leaders gathered together for a groundbreaking ceremony for the Cumberland House, which will be a residency for hospice patients. Upon completion, the facility will consist of 4,067 square feet. June 6, 2005. Mark Brezina, Knoxville Field Office Director, 4th from left Vicky Martin, Knoxville Public Housing Director, 3rd from left
Patrick Cash, Executive Director of the Hospice of Cumberland County said that Crossville Mayor J.H. Graham III is a Godsend to the community. The Cumberland House partnership concept originated with the Mayor of Crossville, Mayor J.H. Graham III, who had been serving on the hospice board for quite some time. The Hospice of Cumberland County had tried to build a residential facility but were unable to accomplish it alone. The need existed in Cumberland County. Low-income residents who couldn't afford 24 hour caregivers were being refused services. Mayor Graham approached the Crossville Housing Authority with a solution, that the housing authority can do the developing and the hospice can provide the services. Don Alexander, Executive Director of the Crossville Housing Authority agreed, with the condition that if HA funds are used, the facility would exist to serve low-income residents, which was acceptable since most of the folks being denied hospice care were low-income. So, a partnership formed and the project began!
This remarkable success is made possible through a successful partnership between the Crossville Housing Authority and the USDA Rural Development (through Volunteer Electric), the U.S. Department of HUD, Federal Home Loan Bank Board of Cincinnati, Bank of Putnam County, Hospice of Cumberland County, and various donations from citizens of Cumberland County. Mark Brezina, Knoxville HUD Field Office Director spoke at the ceremony and complimented Crossville for their commitment to provide this type of needed facility for the community and noted that Crossville is unique in doing this. Ruth Tackett, State Director of USDA Rural Development noted how essential it is to form partnerships to make a project successful, that it takes everybody working together. For more information on this project, contact Vicky Martin, Knoxville Field Office Public Housing Director, (865) 545-4389, or Don Alexander, Crossville Housing Authority, (931) 484-2990.