The saucy aroma of Cajun cooking flowed through the hallways of Montbello Manor in Aurora, Colorado. The residents and Volunteers of America staff were creating their own Southern dish of jambalaya and a welcome feast for their new arrivals. Volunteers of America are housing five evacuees whose homes have been flooded by the wrath of Hurricane Katrina.
HUD staff joined the Welcome Team to greet evacuees, listen to their survivor stories and tour their new apartments at Montbello Manor, a HUD funded Section 202 project for the elderly.
Regional Director John Carson said, "We're happy that HUD can help and it's a pleasure to meet some of the folks who had to leave their homes as a result of this tragedy. We welcome them to Colorado."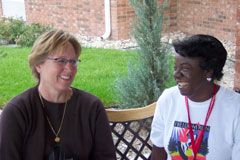 Multifamily Director Marcie LaPorte welcomes evacuee Nancy Mouton
Mr. Carson, Deputy Regional Director John Dibella, and Multifamily Director Marcie LaPorte met Nancy Mouton from Orleans Parish, New Orleans. Ms. Mouton was visiting her nephew in Aurora when Hurricane Katrina hit the Gulf Coast. Instead of taking a plane back to New Orleans, she made arrangements for her sister to fly to Denver. They saw each other for the first time since the Hurricane at "Camp Katrina", the Assistance Center set up at the former Lowry Air Force Base in Aurora, Colorado. Ms. Mouton found her new apartment at Montbello Manor with the assistance of housing partners at Camp Katrina and HUD.
Ms. Mouton knows her father's home was flooded. "The street would flood if we had just a little rain, so you know my wood-framed home was under water."
Ms. Mouton, a police technician, has received calls from her Orleans Parish Police supervisor. After she described the warm welcome and friendly hospitality, Ms. Mouton's supervisor asked if she could come to Colorado and visit.
Montbello Manor is a three-story building with 78 subsidized one-bedroom apartments and one 2-bedroom manager's unit. The project was originally funded in 2001 with a HUD Section 202 Capital Advance grant in the amount of $6,205,400. Construction was completed in November 2004.