The Natchez Housing Authority (NHA), located on the Mississippi River, is a small housing authority with 296 units of public housing. Despite its size, this housing authority has already accomplished big things since Hurricane Katrina.
Soon after the hurricane wreaked havoc on communities about 200 miles from Natchez, Executive Director Alan Ingram opened the housing authority's doors to Katrina victims by allowing them to use the housing authority's 1-year-old Neighborhood Resource Center, which includes a computer lab with seven computers.

The Natchez Housing Authority (NHA) Neighborhood Resource Center was opened to Hurricane Katrina victims as a resource to communicate with relatives and track relief efforts.
NHA offered Katrina victims phones and computers to contact relatives and get information on relief efforts. Approximately 225 families have used the computers to register with FEMA, Red Cross and locate loved ones through the Internet. NHA also provided disaster relief information, as well as local housing options that included Mississippi public housing and Housing Choice Voucher information to Katrina evacuees.
NHA extended the Resource Center's hours of operation and opened on Saturdays. NHA staff helped Katrina evacuees complete FEMA applications on-line and searched for resources.
This was all made possible through a Resident Opportunities and Self Sufficiency (ROSS) Neighborhood Network grant, which NHA used with other HUD funding to build the Resource Center. NHA received a $113,000 ROSS Neighborhood Network grant in 2004. The housing authority coupled that with its annual Capital Fund Program funding to rehabilitate its former office into the Resource Center. The result was a computer lab that residents use for adult literacy and youth tutoring. The ROSS grant funds were used to purchase computers, computer software and equipment, furniture for the computer lab and resource center and pay instructor salaries. Another component of the program focuses on job readiness and General Equivalency Diploma (GED) classes.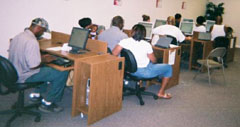 The Natchez Housing Authority (NHA) Neighborhood Resource Center and the seven computers made available to Hurricane Katrina victims.
ROSS grants are awarded to public housing authorities, resident organizations or non-profit organizations acting on behalf of residents. These grants link public housing residents to services that lead to employment and leadership within their community that may lead to self-sufficiency. ROSS grants also provide support services to elderly and persons with disabilities who live in public housing.
The NHA is committed to assist Hurricane Katrina evacuees as long as there is a need.