Faith based organizations in Jackson, MS are joining forces, creating partnerships and special initiatives in an effort to assist families displaced by Hurricane Katrina. Jackson is the Capital City of Mississippi with similarities in its profile to that of New Orleans. That fact is very clear to Dr. Hickman Johnson, Executive Director, Mississippi Regional Housing Authority VI who also pastors a midtown faith based congregation. On Sunday, September 11, 2005, Johnson told members of the Farish Street Church, "Today, I am asking this congregation to respond to the crisis created by Hurricane Katrina. I am asking this congregation, as a whole, to respond to what I am calling: The Resettlement Initiative: Friend To Friend." The "re-settlement initiative" according to Johnson, will assist 100 families re-settle into a new community.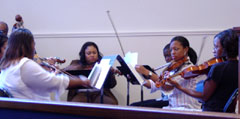 Youth ensemble demonstrates cultural arts and inclusion of evacuees to the community.
Working in partnership with the Mississippi Regional Housing Authority VI, the Farish Street Church will issue its own clothing and furniture vouchers that can be redeemed at the church store and clothes attic. Items of need are from donations provided especially for hurricane evacuees by church members. "These may be modest donations, said Johnson, "but for someone who has lost everything, it could mean the difference between hope and despair." Additionally, cash contributions from special offerings will be used to purchase $50 gift cards for families to purchase food, household wares, and personal items.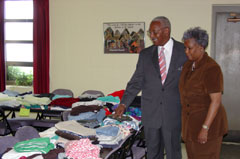 MS Regional Housing Authority VI, Executive Director Hickman Johnson and CPD Director Emily Eberhardt survey items for hurricane victims.
Executive Director Hickman Johnson provides leadership of the Regional Housing Authority, one of the eight Regional Office's administering the Section 8 Rental Assistance and the Low Income Housing Programs. The office recently received 198 pre-application for housing choice vouchers and issued 31 vouchers to hurricane victims. One family has found permanent housing as a result. The communities are making a genuine effort to make a difference for the hurricane victims. Field Policy Management (FPM) and HUD program offices in the Jackson Field Office work closely with community organizations to monitor the support and progress of housing assistance to hurricane victims.