When Hurricane Katrina hit the Gulf Coast of the United States the weekend of August 27, the Chattanooga Housing Authority (CHA) was one of the first in Tennessee to begin receiving families seeking help. Families came with nothing but the clothes on their backs. A disaster relief team of CHA staff was assembled to expedite a response to meet evacuee needs. A quick phone call to the Knoxville HUD Field Office enabled CHA to set aside 80 units for 90-days emergency housing. In addition to providing housing, CHA began to address the total needs of these families.

Chairman Bernie Miller presents a certificate to Lutena Lewis, a resident leader, who worked for days helping families select furniture.
CHA housed its first displaced family on Tuesday, August 30th - just one day after the storm.
Through the generosity of the greater Chattanooga area, CHA assembled clothing, toiletries, household goods, linens, furniture, mattresses, bottled water and non- perishable food at their Holtzclaw warehouse facility. These items were organized so quick selections could be made by evacuee families. Meanwhile, CHA's maintenance crew worked feverishly to bring an additional 180 units of housing on line for these families. A database was created to track evacuee families to ensure they received the assistance needed. An additional database to record donations, volunteers and private housing offered was also created.
In less than one week enough goods had been collected to fill over 30,000 square feet of warehouse space.
CHA contacted various social service agencies to address health issues, counseling, child care, infant needs, transportation, as well as assistance to the elderly. Representatives from Social Security were invited to CHA's office where they issued benefit checks on the spot for those who could not access their funds. Two computers were used to register Katrina evacuees into FEMA's database. An intake team visited the local disaster recovery shelters to expedite applications for housing and worked with local schools to get children enrolled.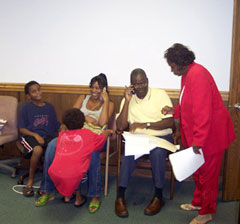 Bryant Lowery (middle) and Ann Martin (right), CHA employees, help provide social services for Katrina evacuees.
Throughout this process, families were fed, clothed, and housed by a sensitive and caring staff. Through partnership with a local church, each family was provided $100 cash and vouchers from two local restaurants. Members of our Commissioners' families volunteered and helped coordinate an "Adopt a Family" program to ensure that each family had someone locally for assistance and advice. CHA staff volunteered their long Labor Day weekend, keeping the doors open from 8:30 am to 6:00 pm to ensure that evacuee needs were met.
CHA's team of dedicated people continue to work with more families each day. One employee recently assisted a blind, elderly man from Mississippi by picking him up at the bus terminal, finding him a place to live, and then completely furnishing the apartment. CHA is also working closely with the Chattanooga Hamilton County Emergency Task Force to address long term needs and to help connect these families with job opportunities.
To date, CHA through the tireless volunteer efforts of their staff, the expedient response of HUD Knoxville, and the generosity of the citizens, organizations, and companies of the greater Chattanooga area, has assisted over 200 families affected by Hurricane Katrina and her aftermath. With families still arriving in the area, CHA's commitment to this cause continues.
CHA is also participating in the HUD Katrina Disaster Housing Assistance Program (KDHAP).