Soon after Hurricanes Katrina and Rita devastated the northern gulf coast, evacuees from Louisiana, Mississippi, and Alabama began arriving in West Central Florida. Because there is no local FEMA office, the displaced individuals located the local HUD and Red Cross offices, to ask for assistance. Many arrived with just the clothes on their back.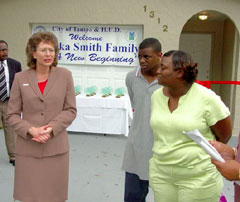 L-R: Mayor Pam Iorio, Mayor of the City of Tampa, with Ms. Katrika Green in front of Ms. Green's new home.
City of Tampa Helps With Houses
Due to the coordinated effort of the City of Tampa, the American Red Cross and other HUD partners, Ms. Green Smith and her family, former residents of New Orleans, received assistance. Their new home was one of 10 that had been built with HUD funds through a City program. Mayor Pam Iorio, Mayor of the City of Tampa personally presented the keys of the house to Ms. Green. Ms. Green is being provided with assistance to secure employment to allow her the option of purchasing the house.

John Mitchell, Tampa Bay Chapter, American Red Cross, Karen Jackson Sims, HUD Tampa Field Office, and Pat Bean, County Administrator, Hillsborough County, FL.
The Green Family's new home, along with many others was fully stocked and furnished thanks to donations from the Tampa Bay faith-based community and the national furniture retailer Rooms to Go.
"Home Away From Home"
A $2.3 million grant from Hillsborough County, private donations, Catholic Charities, and the Diocese of St. Petersburg, Florida stepped forward to assist evacuees to locate housing, secure furniture and provide other household items for evacuees. People from all over the greater Tampa Bay area have offered to help.
Hillsborough County Opens Disaster Recovery Center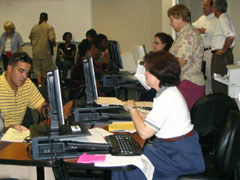 Evacuees receiving assistance from agency representatives.
Recognizing the need to continue assisting displaced families, HUD's Tampa Field Office, the American Red Cross, Hillsborough County government and public and private partners went about locating resources and establishing a one-stop center to provide information on housing resources, jobs, schools, food stamps, medical assistance and registering with the Federal Emergency Management Agency. On October 10, 2005, Hillsborough County Administrator Pat Bean, with HUD Field Office Director Karen Jackson Sims, and Tampa Bay Red Cross Emergency Services Director John Mitchell, held a press conference announcing the opening of the Tampa Bay Area Disaster Recover Center.
Located at the County's Housing and Code Enforcement Building, the center is in an excellent location and will remain as a semi-permanent fixture should it ever be needed after future disasters. To date over 285 families have been assisted through this coordinated effort.