Elderly citizens of rural Scottsville, Kentucky, have new options for safe, lovely, and affordable housing because of HUD, the White Plains Baptist Church, and Scottsville Housing for the Elderly, Incorporated. Built around a circular drive with pull-in parking spaces, this unique set of seven four-plex units was funded through HUD's Supportive Housing for the Elderly program with a Capital Advance of $2.3 million dollars.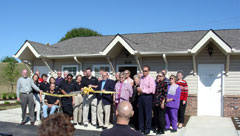 Ribbon cutting in front of new housing in Scottsville
These homes are especially important to the new residents and their extended families because it allows them to remain in the pastoral setting of Kentucky which has been home to them most of their lives. The project has several wooded green spaces and overlooks an 18-acre, spring-fed lake. There is a community room that residents enjoy together, a laundry room, a manager's office, and an on-site manager, who lives among the residents and is available to assist them. Each four-plex has been given a name in honor of one of the committed people who worked to make architectural plans a place to call home for 28 older adults. A church van will be on the property to provide any transportation needs of the residents. There is a 12,000 square-foot Family Life Center nearby, and they sponsor field trips to plays, sporting events, and concerts.
Developments like this are brought to reality through a team effort with many partners. The Scottsville Housing Authority assisted during the construction phase, and it will also provide the ongoing management services. The Kentucky Housing Corporation provided $236,179 dollars in gap financing which was used to pay for the land and to cover some of the development costs. HUD will ensure that the rents for these units remain affordable by providing Project Rental Assistance of up to $79,100 dollars per year to supplement the rental income received from the residents.