On November 8, 2005, the Birmingham Field Office held a special luncheon program to celebrate Veteran's Day and to recognize the service of the veterans on our Field Office staff. Beginning with a poem written and presented by a veteran, and concluding with a barbeque lunch, the program touched on the sacrifices veterans have made on behalf of the freedoms we hold dear, and gave participants a little bit of oral history on an element of military service that sometimes gets overlooked.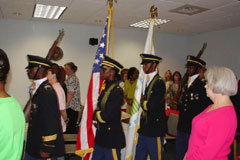 Hayes High School Honor Guard helps to open program
Colors were presented by the Honor Guard of Hayes High School JROTC, under the leadership of 1st Sgt. Hardwick Olin Hall, Sr. Welcoming remarks were offered by Field Office Director, Cindy Yarbrough, who also recognized the veterans in the room. The invocation was offered by Ed Coberly, Field Office staff member and veteran.
There were two featured speakers for the occasion; Colonel Dennis Saltzman of the 81st Readiness Command, and Chief Warrant Officer Four, Ida Tyree-Hyche. Colonel Saltzman spoke on tradition in the military, and why knowing that tradition is so important. Warrant Officer Four, Tyree-Hyche gave us a fascinating oral history of the changing role of women in the military, from the perspective of a woman who had gone through the last basic training program segregated by gender.

Vicky Gill and Gale Harris were two members of Field Office staff who participated in the program and also served in the military
Music for the occasion was provided by Birmingham jazz legends; Dr. Frank Adams and Tommy Stewart, whose presence added immensely to the occasion. One of the emotional high points of the program was a poem by Moon, a veteran who noted that he had been homeless and hopeless, but that God found him at his lowest point and lifted him back up so he could be a voice for the hurt he and so many like him had felt. And he offered a poem about homeless vets, and the way we look at them, that touched the heart of everyone in the room.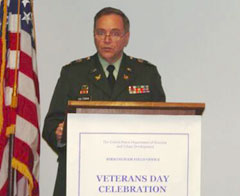 Colonel Dennis Saltzman of 81st Readiness Command shares personal insights of military tradition and its meaning
The following members of the Birmingham Field Office staff were recognized for their military service at the program:
Ed Coberly - United States Air Force
Harold Cole - United States Air Force
David Duke - United States Army National Guard
Jim Eason - United States Army
Marcia Fullerton - United States Navy
Vicky Gill - United States Army
Terry Graves - United States Army
Steven Hand - United States Air Force
John Harmon - United States Army
Gale Harris - United States Army
Ralph Logan - United States Army
Forrest Pitts - United States Air Force
Joe Przybyzewski - United States Army
Dale Richards - United States Navy
David Roarke - United States Army National Guard
Terry Saylor - United States Air Force