The rural community of Moses Lake, Washington, celebrated three years of planning and development at the grand opening of Northwest Estates, a 12-unit affordable, supportive housing development for local residents with disabilities.
"It's an outstanding project, and we're excited that it's built," said John Poling, Executive Director of the Grant County Housing Authority, which will manage the development.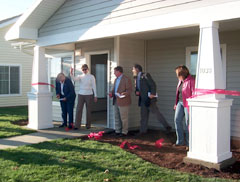 Ribbon cutting at Grand Opening of Northwest Estates, Section 811 housing for persons with disabilities in Moses Lake, WA.
Joey Lopez, who recently moved into his own apartment at Northwest Estates enthusiastically stated, "I love my house so far. It is nice, neat and I am taking care of my place. I like the newness; rent is affordable and it's quiet. I'm lucky to have my house and the people who help me take care of it. Thank you for letting me live here."
A grateful parent thanked the partnership for developing housing "that was specially designed, safe, and met the needs of her disabled son, a place that he can call home but remain connected and supported by the community and family."

Betty Jo Stucks in front of her new home on move-in day.
The seed money for this project came from a HUD Section 811 capital advance of $844,400 to Community Frameworks, a Spokane based group that works with other non-profits to bring affordable housing to Northwest residents. An additional $579,923 came through HUD's HOME Investment Partnerships Program for a total of $1,424,323, and other funding came from the Washington State Housing Trust Fund.
Community Frameworks Co-Executive Director Frank Carpenter said, "These residents have a home in which they can have dignity."
HUD provides rental assistance to the residents, assuring they will only have to pay 30 percent of their adjusted income in rent. HUD has a 5-year renewable contract to provide $37,500 per year in rental subsidies to cover the difference between the residents' contributions toward rent and the cost of operating the project.
Units were designed to blend into the neighborhood and to serve both the chronically mentally ill and developmentally disabled population. Sharon Kiehn, executive director of Grant Mental Healthcare, whose office will be providing services to the residents with disabilities, said "affordable housing projects like this one fill a great need for the Grant County area."