Providing affordable housing in Seattle's hot real estate market is increasingly challenging and requires creative financing. The Grand Opening of Cabrini First Hill Apartments, sponsored by The Missionary Sisters of the Sacred Heart of Jesus (Cabrini Sisters) with development consultant, the Low Income Housing Institute was a milestone in the creation of affordable housing for low-income seniors in downtown Seattle.

Cabrini First Hill Apartments
"There was a tremendous amount of vision and collaboration involved in completing this project," said Robin Larkins, Corporate Advisor, Missionary Sisters of the Sacred Heart. "This is the first project in the country to be built with both HUD Section 202 funds and tax credits. Thanks to Renee Greenman, (Seattle Multi-Family HUB Director) John Meyers (Regional Director) and everyone at HUD who not only were willing to say 'Yes' to this landmark financing, but were willing to partner with us and advocate for it every step of the way! This is truly a national model for the future of public-private partnerships."
Renee Greenman, HUD's Seattle Multi-Family HUB Director, was honored at the ceremony with a plaque recognizing her efforts as a "HUD Pioneer" for bringing to fruition the first mixed-use, mixed financed Section 202 project in the country utilizing tax credits. Major funding for Cabrini First Hill Apartments came from a $5.4 million HUD Section 202 grant combined with $3.5 million in low-income housing tax credit equity from Enterprise Community Investment.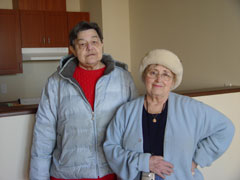 Residents Frances Rouley (L) Gilda Kabbani (R)
"It's a very convenient location, close to downtown stores and medical care," said Hattie L. Jackson, age 72, in anticipation of her move into her new apartment. "This means so much to me."
Frances Rouley, age 70, a retired librarian looks forward to her new home and the chance to "put my impression on it by helping set up the library."
"Living here will be the pièce de résistance for my writing," said Gilda Kabbani, age 70, another new resident and aspiring author.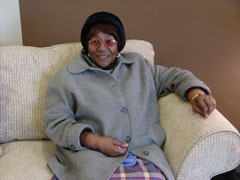 Resident Hattie L. Jackson
Additional funding for the 50-unit apartment building includes $1.5 million from King County's Harborview replacement housing fund, $1 million from the Washington State Housing Trust Fund and support from the Federal Home Loan Bank, Bank of America, Fannie Mae, Washington Community Reinvestment Association, and Washington State Housing Finance Commission.
The success of this project should encourage HUD, tax credit authorities and developers to view this financing option as part of the norm rather than a far-flung exception in providing decent, affordable housing options, especially in high-cost metropolitan areas.