Lucinda Freeborn and her 10-year-old son, Bryson Hranac, were tired of renting apartments and wanted to settle into their own home. Once Lucinda discovered the Mercy Housing Self-Help Housing program in Filer, Idaho, she applied with dreams of homeownership.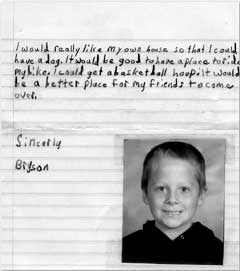 10-year old Bryson Hranac with letter to Mercy Housing
Knowing the loan qualification process would be difficult, Lucinda asked Bryson not to get his hopes up about building their own home. Bryson, however, was determined to help and decided to take matters into his own hands.
Bryson wrote a letter to the loan program, expressing his dreams about living in his own home. Lucinda submitted the letter with her application, and she and Bryson were soon accepted into the Mercy Housing program. They will move into their first home in July 2006.
Mercy Housing Idaho Single-Family Self-Help Homeownership program is funded through HUD's Self-Help Homeownership Opportunity Program (SHOP) and USDA Rural Development. Mercy is one of four Idaho "sweat equity" programs to receive funding through HUD grants to Community Frameworks in Spokane, Washington.