Ramon and Raquel Artola have three children - 17-year-old Giselle, 12-year-old Ramon, and Rommel, who's 10 - and all of five of them are currently crowded into a small, older two-bedroom apartment. The oven doesn't work, and they have troubles with the plumbing, electricity and heat in their home. In addition, the Artolas worry about their children's safety, since they have seen several incidents of crime in their apartment complex.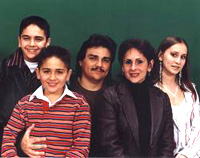 The Artola family
Originally from Cuba, Raquel studied law while teaching elementary school, and met Ramon, an architecture student, when she borrowed stereo equipment from him for a school event that she was organizing. They were soon married, and after graduation, Raquel became a legal consultant for the Cuban Department of Agriculture, while Ramon finished school and became an architect for the Cuban Department of Housing. However, they refused to join the Communist Party, and because of that decision were forced to leave their professional careers. Finding themselves without employment and with no options in Cuba, they applied for visas and moved to the United States in 2004.
Today, Ramon works in manufacturing, and until recently, Raquel worked in retail, but quit her job to stay home and care for one of their sons who is ill. They are now very happy to be permanent residents of the U.S., and are very excited to be in the Habitat for Humanity program, and are excited to be building their own home.
Ramon and Raquel Artola look through their front window for the first time
Portland's Habitat for Humanity (habitatportlandmetro.org/) is the recipient of a $120,000 Self-Help Home Ownership Program (SHOP) grant from HUD, which helps to fund their housing programs. Habitat for Humanity helps deserving families help themselves on the road to homeownership.