In an Alaskan village tucked along the Kuskokwim Delta, construction workers are building houses for their neighbors and helping to meet the critical housing needs of rural Alaskans. Stanley Berlin of Kasigluk speaks from experience when he says that training local workers for rural construction projects is a "good idea."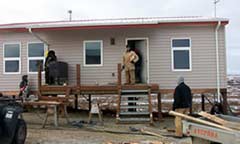 The Berlins put finishing touches on a new home in Kasigluk, Alaska.
Stanley, Field Superintendent for the Association of Village Council Presidents Regional Housing Authority (AVCP-HA), is supervising a project to build seven new homes in his village. He works alongside his son, Michael, and his brother, Wilson. All three Berlins received construction training through an Alaska Works Partnership (AWP) program (www.alaskaworks.org/) in conjunction with the regional housing authority.
Programs like these help the AVCP-HA stretch its HUD funding through the Native American Housing Assistance and Self-Determination Program by providing training as well as building and repairing homes.
Stanley graduated from the Building Maintenance Repairer (BMR) Apprentice Program on April 2, 2004. He quickly worked his way from apprentice to superintendent, which was no surprise to his instructor Mike Tucker. "Stanley was one of these guys with a lot of experience. I could see he was going to be leader."
Stanley demonstrates what Ron Hoffman, President and CEO of the AVCP-HA, knew could be done if local residents were trained and given the opportunity to work in their own communities. "I hoped, when we started this, that one day these individuals would be running projects. I'm pleased to report that it is happening right now."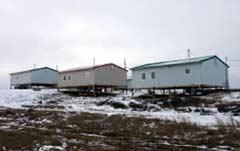 New homes built by villagers are becoming more common in rural Alaska.
Since the program began in 2001, AVCP-HA has built 173 new homes, with 18 additional units slated for summer construction and dozens more in the planning stage. Renovations of existing homes are also underway. The projects employ 500-700 workers during the construction season, generating $5-7 million in wages for local residents.
"It's a benefit for the whole region," Hoffman says. "We are training a workforce that we were previously lacking. It's an ideal opportunity for individuals to advance in a career, and provides a huge benefit to the community."
The Apprentice Program, developed to train apprentices in a wide range of construction tasks such as carpentry, painting, plumbing and electrical, is the largest registered apprenticeship program serving rural Alaska with 120 apprentices.