Clarksville, Tennessee is a vibrant community located in Middle Tennessee, directly off of I-24, 40 miles northwest of Nashville. As the fifth-largest city and the third fastest growing county in Tennessee. Clarksville-Montgomery County (http://www.cityofclarksville.com/index.asp) is experiencing tremendous growth. With that growth also comes the need for more social services support to those with different needs.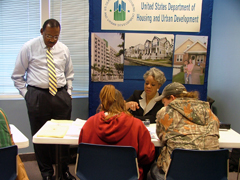 Nashville Field Office Director William Dirl (standing); and Ms. Teresa Chappel assist homeless clients at Clarksville's Homeless Connect.
For the second year in a row, the city's community development (http://www.cityofclarksville.com/HousingDevelopment/index.asp) staff and their Director, Rita Arancibia, have participated with the Clarksville Homeless Coalition and with the national organization called the Interagency Council on Homelessness (ICH) (http://www.ich.gov/) to bring the area's social service and homeless providers together for a "one-stop" service center for the area's homeless population. Nationally, this annual event is held in scores of cities.
Called Project Homeless Connect (http://www.ich.gov/slocal/NationalProjectHomelessConnectPromo.html), this endeavor is planned by cities that have developed unique and localized ten-year plans to fight homelessness, and is a call for national unity to help others who may be homeless or in transition from homelessness. December 4 - 8, 2006 was National Project Homeless Connect Week, and was held in some 40 cities.
At Clarksville's Project Homeless Connect, over 20 agencies participated and brought their services to those who may be in immediate need for housing, medical assistance, food, clothing or other emergency needs, including the Nashville Field Office of HUD, which has jurisdiction over most Middle Tennessee counties.
Clarksville's executives and Mayor Don Trotter recently implemented a 10-year plan in their city, as has Nashville and Murfreesboro. Regionally, the endeavor to form and implement a 10-year plan and to engage in events like Project Homeless Connect in counties, cities, states, or other communities continues to gain momentum.
HUD's Teresa Chappel, representing the U. S. Interagency Council on Homelessness and the regional coordinator for the Office of Faith-Based and Community Initiatives, Atlanta Regional Office read a Presidential Proclamation from President Bush officially declaring Project Homeless Connect. In delivering a keynote address to the crowd, Ms. Chappell, reminded participants that homelessness can happen to anybody, under unexpected circumstances. "A lot of us are just one paycheck away from being homeless," she said. "Let's end this thing called chronic homelessness, no matter a person's plight - because things happen."

ICH Region 4 Contact and Faith/Community Based Coordinator, Teresa Chappel, discusses the importance of Project Homeless Connect with Clarksville Community Development Director Rita Arancibia.
Nashville Field Office Director, Bill Dirl, has supported Clarksville's proactive and vigorous approach to unify service providers in Upper Middle Tennessee and to help form a strong coalition of service providers - or what HUD calls a Continuum of Care.
"The Nashville Field Office will continue to strongly support these initiatives by our partners. Clarksville and the Continuum's work exhibits the kind of teamwork and dedication HUD wants the country to see," said Mr. Dirl.
In the meantime, those who in the past only had a few outlets with which to uplift their status, can now directly benefit from the dedicated volunteers, providers, and faith-based organizations that will not stop, cease, or slow-down their unified efforts to help others who are less fortunate. They now can find a full list of providers. These efforts in Clarksville and nationwide dignify what American's truly believe, and demonstrate the true meaning of the holiday season.