Many business owners and contractors think only of "red-tape" when they think about government contracts and compliance with the myriad rules and regulations. For some, the thought of keeping up with Federal prevailing wage requirements is just too much to bear. During three workshops conducted January 9-11, 2007, HUD's Office of Labor Relations staff from Atlanta and Denver brought a message of simplicity, streamlining, and opportunity to East Tennessee contractors.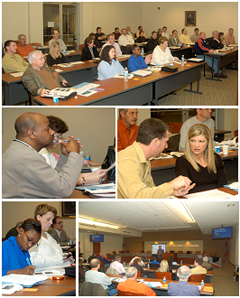 HUD's Office of Labor Relations Outreach to Clients in East Tennessee Helping Agencies & Contractors Succeed
HUD Labor Relations Specialists Steven Bales (Atlanta) and Jennifer Dupont (Denver) conducted three specialized workshops designed to help public housing authorities, entitlement cities & counties, and contractors in Tennessee ensure that men and women working on HUD funded or assisted construction/repair projects receive proper payment. The workshops were sponsored by the HUD Field Office in Knoxville, and hosted by the Knoxville Community Development Corporation. In attendance were over fifty participants representing agencies from 22 agencies and firms across the state.
The primary purpose of the training was to provide crucial information about Davis-Bacon and other prevailing wage requirements on HUD-funded or assisted construction/repair work. But the sessions also provided an opportunity to share cross-program information with the three groups. HUD Knoxville Field Office Director Mark Brezina, and his staff addressed Section 3 issues with each class. Contractors and agencies learned about the importance of giving residents of low and moderate incomes preference in hiring on projects assisted by HUD. HUD Field Office Director Brezina and his team also informed the groups about Fair Housing requirements, FHA products, energy efficiency goals and more.