HUD's Regional Director, Bob Young participated at the 1 (888) 995-HOPE hotline and foreclosure prevention education campaign - HOPE LAUNCH, along with Teresa Chappell, HUD Special Assistant to the Regional Director. The HOPE Launch Event was held at the Commerce Club in downtown Atlanta on Wednesday, January 31, 2007 from 8:45 a.m. - 10:00 a.m.

Teresa Chappell, Special Assistant to HUD Atlanta Regional Director
Government and not-for-profit officials was on hand to announce the comprehensive foreclosure prevention program, offering assistance to Georgia residents at risk of losing their homes. The program consists of 1 (888) 995-HOPE, a toll-free, 24/7 hotline supplemented by high quality face-to-face counseling provided by NeighborWorks organizations and a targeted public education campaign.
The HOPE Campaign is an important step in curbing foreclosures, particularly in metro Atlanta. In the past five years, there have been 90,000 foreclosures in the 12 core metro Atlanta counties. Calls to 1 (888) 995-HOPE will be routed to an Atlanta-based call center where expert counselors offer free, confidential counseling for those facing foreclosure.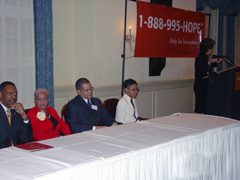 DeKalb County GA CEO Vernon Jones, City of Atlanta Mayor Shirley Franklin were two of the distinguised speakers.
Kenneth D. Wade, Chief Executive Officer of NeighborWorks, America recognized the Regional Director of HUD as representing the nation's leading Housing Agency for Affordable Housing in the country. Other speakers and attendees included, Atlanta Mayor Shirley Franklin, DeKalb County CEO Vernon Jones, Atlanta City Council President, Lisa Borders, Fulton County Chairman John Eaves, Suzanne Boas, President of Consumer Credit Counseling Service Atlanta, Colleen Hernandez, President, Homeownership Preservation Foundation and Stacey D. Stewart, President and CEO of the Fannie Foundation. Several members of the local media were also present. Article appeared in the Atlanta Journal Constitution on February 1, 2007.
Other HUD staff in attendance included Atlanta Regional Office Field Policy and Management, Georgia Publicand Indian Housing and the Atlanta Homeownership Center.