Ask Virginia Eldridge what Save A Lot means to her and she'll tell you that it's a dream come true. The new employee of Wilkinsburg, PA's just opened Sav a Lot grocery store will tell you that she has a 10-minute walk to work and that she's very happy for her community. Thanks in part to $500,000 in HUD Community Development Block Grant funds, picking up a quart of milk and a loaf of bread will no longer be a mission impossible for residents of Wilkinsburg, Pennsylvania, a city of about 20,000 adjacent to the City of Pittsburgh.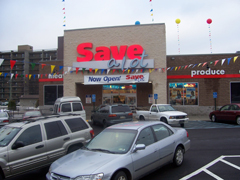 Save A Lot opening.
For the past 10 years, a partnership of city, county and HUD folks have pushed ahead to bring back a grocery store to Wilkinsburg after a 20-year absence. On February 21, 2007, that dream came true. It is already a catalyst spurring additional economic development.
Sav A Lot Manager Tom Jamieson says that 90% of all employees will be Wilkinsburg residents, another big plus.
"It's a good example," said HUD Pittsburgh Director Cheryle Campbell, "of how a bricks-and-mortar partnership can make a major contribution to restoring a sense of optimism, of security and of economic opportunity. Wilkinsburg has a very promising future."
###