On February 28, 2007, Housing Authority of the Birmingham District Board Member, Mrs. Samella Cabil-Martin remembers the area in Pratt City where 25 new homes for low to moderate - income residents now sit. But she doesn't remember as it a neighborhood for families; she remembers it as a wooded field that she played in as a child growing up in the area. That is one of the reasons she was so excited to be able to participate in the grand opening ceremony for the homes, and to welcome the new homeowners to her neighborhood.

Housing Authority of the Birmingham District Board Member Mrs. Martin (far left) and HABD Deputy Director, Naomi Truman (center) join one of the families that will be moving into a new home in the community, at Open House Ceremony celebrating the completion of 25 Affordable Homes for low to moderate income residents.
One of the homeowners welcomed was Cassandra Sullivan, a single mother of a four-year old son, who purchased her first home in the subdivision. She said that she could relate to the remarks Ms. Martin made about driving by her home everyday while she was waiting to close, and about how unreal it seemed for her dream of owning a home to be coming true, as she too drove by her home repeatedly while it was being built.
While the excitement being felt by the new homeowners was expected, the elected officials, community leaders and housing authority staff who participated in the opening program also showed great emotion and enthusiasm. Birmingham City Council Member, Steve Hoyt, who also worked on the project as a member of the HABD Modernization staff, told the new homeowners that he would like for them to know that working on the project represented much more than a job to him and the other members of the HABD development staff.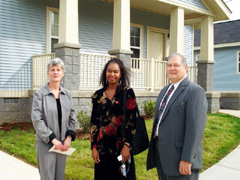 New homeowner Cassandra Sullivan proudly stands before her new home with Birmingham HUD Field Office Director, Cindy Yarbrough and Field Office Public Housing Division Director, Ed Sprayberry.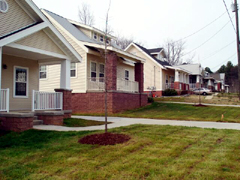 Some of the completed homes in the subdivision that will soon become home to families participating in HABD homeownership program.
He said that it was a labor of love and a labor of pride. His sentiments were repeated often as the program progressed.
Sitting back and watching over the ceremony in his usual quiet manner was Housing Authority Executive Director, Ralph Ruggs. He spoke only long enough to recognize the efforts of his staff, which he credited for the community that was being celebrated. And yet speaker after speaker, paid tribute to his leadership and the difference it has made in the operation of the Authority.
The community was developed with $1,489,000 in funding from the Housing Authority's Capital Fund Program. In order to be eligible to participate applicants needed a minimum family income of $15,000 and a maximum family income less than 80 percent of the median family income for the area, or about $45,000. Applicants were required to have an acceptable rental payment history and past credit history. All applicants are required to participate in the HABD homeownership education program and to make a contribution of $500 toward the purchase price of the home.
The Development team for this project included:
| | |
| --- | --- |
| Contractor: | Bric, Inc., Rick Bentley |
| Architect: | Adams Design Associates, Architect, Paul Roderick |
| Financing: | First American Bank |
| | Wachovia Bank |
| | Federal Mortgage & Investment Company |
| | First Liberty Mortgage |