In recent years, Patricia Patten has waged a quiet fight against a cancer that slowly sapped her of her strength but not her dignity. She came into the office each day, had a cheerful word for everyone and was a valuable asset to the office and its commitment to quality customer service. On the phone of with walk-ins, Pat's pleasant personality and calming style quieted even the most agitated callers and visitors. Pat's illness was never an excuse and never intruded into the performance of her duties.

Michele Bernier, FPM, and Alex Vilardo, CPD, set the table for a Mardi Gras celebration in honor of colleague Pat Patten who is battling cancer.
But the aggressive therapies her doctors prescribed began to take a toll and rather than be a burden on her colleagues, Ms. Patten went out on extended sick leave. While she was out of sight, she was rarely out of mind. Daily inquiries about Pat's health translated into generous donations of leave. Still, her colleagues searched for ways to repay some of the kindness that was Pat Patten's legacy to her co-workers and to HUD customers.
So on Mardi Gras, the office staged a pizza and chicken wing lunch as a vehicle to raise awareness of Pat's condition and to recognize her contributions to the office. Several staff members made desserts to accompany the pizza and the ubiquitous chicken wings. Virtually everyone took part and the end result has been a weekly offering to Pat and her husband of supermarket gift cards, fresh flowers, fruit baskets, cookie bouquets and anything else the staff thinks up in the intervals.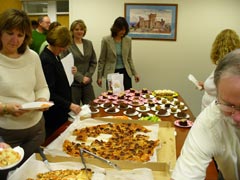 Buffalo staff digs into a lunch time feast.
The Buffalo field office has been a beacon of generosity over the years, standing tall alongside the Dept. of Veterans Affairs and their annual Christmas "Adopt-a-Vet" campaign, through the donations of turkeys and other Thanksgiving supplies to a charity serving a public housing development, and in the annual Consolidated Federal Campaign. But this time, they rallied to the side of a colleague whose professionalism and personality did so much to make the office a better place and whose absence is now sorely felt.