On Saturday April 21, 2007, the Pittsburgh Field Office joined some 50 local, state and federal service providers at Century III Mall in the Pittsburgh, PA suburb, West Mifflin, for a "Super Event." Sponsored by the Mon Valley Providers Council and the management of Century III Mall, the Super Event attracted a steady stream of interested parties. The sponsors' goal was to engage and inform residents in Pittsburgh's South Hills about a variety of issues facing their community.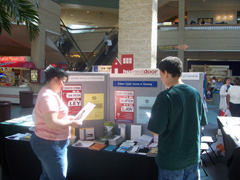 Visitors to Century III Mall in Pittsburgh learn about the Fair Housing Act
Equal Opportunity Specialist Donna Chernoff and Operations Specialist Cindy Haines used the opportunity to promote fair housing awareness. Adding interest to the day, the Pittsburgh Field Office team provided literature on the Fair Housing Act in nine languages: English, Spanish, Arabic, Urdu, Bengalese, Chinese, Japanese, Korean and Russian. Housing Complaint forms were also displayed in several languages.