MOHM's Place, an acronym for Messenger of Hope Ministries, is a meal site that feeds approximately 4000 meals monthly to the homeless and near homeless in Council Bluffs, Iowa. MOHM's Place has been feeding the hungry since 1995, and provides services from a network of 69 different services from thirteen agencies. There appears to be literally nothing MOHM's Place cannot do to facilitate a homeless person who wants help.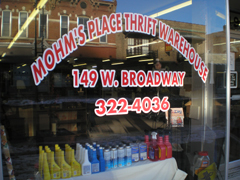 MOHM's Place Thrift Warehouse Store Window.
The mission statement is "feed the hungry...heal the hurting...and touch the hearts of the people. "It started with a little white van passing out sack lunches under the bridges in Council Bluffs, IA where the homeless congregated daily. It then acquired a 60-passenger school bus and built a mobile kitchen until it moved to the current facility.
MOHM's Place is in the process of building a facility called "New Visions" which is a 40-bed men's shelter, a 26-bed transitional living unit for single men and single women, a new community room and an administration building. This facility will be operational in 2007. They received funding from HUD totaling $836,000 with $125,000 CDBG funding, $511,000 SHP funding and $200,000 Home funding.
MOHM's Place also opened a thrift shop which helps offset the cost of the ministry. As the homeless regain their job skills and become productive again, they are able to work in the thrift shop.
MOHM's Place assists individuals who are homeless, allow them to volunteer and when they begin to make a life change they are afforded an opportunity to live in one of the apartments, paid a small stipend and provided help in becoming productive once again.
One such individual was a man named Rick. MOHM's Place received a call from his sister stating that she had a brother who was addicted to meth, living on the street, and if someone didn't help him soon, he would die. She stated that she heard if anyone could help Rick, it would be MOHM's Place. She was asked to have him come to the Center. The next day Rich visited the Center and the person who knocked on the door appeared to be the "saddest, dirtiest, most tired and messed up man" the Center had seen in a long time. He stated whom he was and that his sister told him to come for help.
Rick talked for a short time and the staff did a preliminary assessment to see where he was really at and if he really wanted help. After about 10 minutes, Rick was asked to have a seat in the dining room, which he did. While being seated, Rick observed some of the workers performing light electrical work. Rick proceeded to stop the staff person and said that what the workers were doing was not code and it wouldn't work. He was asked how he knew that and he said he was a "Licensed Electrician." Rick was asked to fit it, which he did.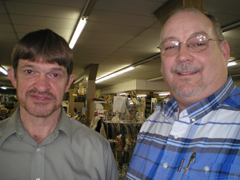 Rick and Pastor Harry H. Wallar.
MOHM's Place has an apartment building that was used to get homeless people off the street so he was placed in one of the units and the staff began to work with him. He had a genuine desire to change and MOHM's Place immediately began to hold him accountable for his time and put him to work as a volunteer. Rick excelled at everything he did. Rick came to MOHM's Place in Spring 2003 and with the total 2003 HUD funding of $46,100 They received, they were able to operate 'street level' based services which allows greater access to the homeless. Most homeless do not feel comfortable going into an office building, sitting across the desk from someone in a suit and tie and applying for services.
Pastor Harry H. Wallar, in whose vision MOHM's Place is fashioned said: "These services which Rick received and many like him, allows them to regain their dignity, self-respect, and become productive again. Once they have their life back again, many of them, Rick included, give back to the homeless what they received. They can say, "I was where you are and now I'm here. You can be here too."
Today Rick is married to woman from the church with small children. He bought a pickup truck and is a full-time paid employee as well as the manager of the thrift store. Rick is the Director of Operations for the Christian Worship Center which has the MOHM's Place program. He's an usher in the church and has repaired and established relationships again with his elderly mother and sisters.
Rick is one of thirteen young men that have been helped this way in the past two years. Rick is now pouring into other men and women who were in he same condition he was - - - - how awesome is that?