The "big guys" like Warren Buffett, Bill Gates and Donald Trump don't have any trouble getting a bank loan to start a new business or launch a new product. But what do you do if you're a "small guy" with a great idea - but no formal business education, possible credit issues, lack of resources, or no experience in the world of business?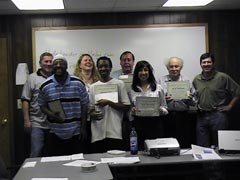 L-R: Greg Fertig -WVSU Economic Development staff Christopher Willis - graduate, Julanna Bills - WVSU Economic Development staff, Michael Pless - graduate, Raymond Pittman - graduate, Gail Thornhill - graduate, Yosif Simiryan - graduate, John Delawder - WVSU Economic Development staff.
Until recently, in West Virginia what you did was struggle or come to grips with the likelihood that, lacking resources, contacts and acumen, your great idea would never, ever get off the shelf.
Not anymore. Thanks in part to a $250,000 grant from the Benedum Foundation and a $500,000 grant from HUD to the Land Grant Division at West Virginia State University; small entrepreneurs are getting a real chance to make a big splash.
It's called Opening Soon, Inc., and it's intended to give "small guys" like low-income and minority West Virginians - particularly those living in public or assisted housing - a chance to learn the skills they need to make a go of a good idea. Those who don't know the first thing about submitting a loan application or getting a business license or developing a marketing plan, learn the a-b-c's of doing so. And those who've got bad credit or haven't completed their education or freeze when put in front of a computer, start putting their own house in order with help from partners like the Kanawha Institute for Social Research and Action, a HUD-approved housing counseling and faith-based organization with demonstrated expertise in financial counseling.
To date, more than 250 aspiring entrepreneurs have availed themselves of the services and opportunities Opening Soon, Inc. has to offer. Better still, a number of new ventures already have been launched. One participant has launched his own landscape business; another has created a service that advises others of the do's and don'ts of starting a business. And a number have made use of the Center's industrial kitchen to start refining their jams and jellies, salsas and barbeque sauces that, one day, could easily end up on supermarket shelves.
Opening Soon, Inc. has very quickly become one of the places for budding entrepreneurs in a six-county area to think through, refine and, ultimately, launch their small business ventures. And, as it moves forward developing and capitalizing a new revolving micro-loan program and, in collaboration with the West Virginia Department of Health and Human Resources, helping clients use Individual Development Accounts as a business start-up resources, its reputation is only expected to grown.
Not all great businesses get their start in a Wall Street boardroom but around a kitchen table, in a garage, or some place non-conventional. The Charleston Field Office is excited in assisting with ways to help West Virginians to have a place where they can bring their dreams and bring their ideas and make them a reality. And, even, better, we're pleased that we've been able to partner with other organizations to evolve our services as the needs of our clients - whether job seekers or small business starters - have evolved.
The most recent Opening Soon, Inc., graduating class includes: Christopher Willis, Michael Pless, Raymond Pittman, Gail Thornhill, and Yosif Simiryan. Wouldn't it be great if one day they are our next Bill Gates or Warren Buffett or Donald Trump!
# # #