On April 21, 2007, a team of senior residents, an Easter Seals volunteer and an employee of the Mobile Housing Board won the "People's Choice Award" at Volunteer Mobile's 4th Annual Shrimp Cook-off. The Mobile Housing Board is a HUD-funded Public Housing Agency in Mobile, Alabama. Volunteer Mobile is a 501(C)(3) organization that, among many other things, hosts several events such as the cook-off to raise money for much-needed community projects.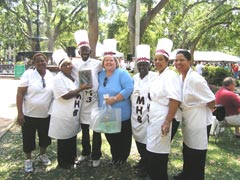 The Mobile Housing Board's team (from left to right). Team assistant Pamela Powe, Mary Hightower (Easter Seals volunteer), Team Leader Charles Bailey, Central Plaza Towers Manager Nancy Wilson, Louise Perry, Helen Beamon and team assistant Adline Clarke.
Helen Beamon, Mary Hightower and Louise Perry joined the Mobile Housing Board's team leader, Charles Bailey. They cooked one of Bailey's recipes - "Shrimp and Crawfish Clemeneau." If it sounds like a meal on the menu of a New Orleans restaurant, it's because that is where Bailey was working when he created and named the seafood dish. Before retiring, Bailey worked as an executive chef in New Orleans and Atlanta. Central Plaza Towers, one of four Mobile Housing Board apartment complexes for senior citizens, became his new home after Hurricane Katrina flooded New Orleans in August 2005. Mr. Bailey is happy to have found a home at Central Plaza Towers, particularly after the devastation and flooding in New Orleans.
With a bit of encouragement, he dug out his chef's hat and apron and said he would represent the Mobile Housing Board in this year's Shrimp Cook-off. Beamon, Hightower and Perry agreed to join Bailey, each bringing some food preparation experience of their own to the team. Judging from the sweet smell of shrimp dishes that filled the air as the teams were cooking, it must have been difficult for judges to select winners. Although the Mobile Housing Board team did not win the vote of the judges, they triumphed to win the "People's Choice Award".
The Mobile Housing Board's team won the people's popular vote and had lots of fun helping to raise money for Volunteer Mobile. Cindy Yarbrough, HUD's Field Office Director in Alabama said, "It is a wonderful thing we have programs that provide a home for our seniors and that we have great partners like the Mobile Housing Board to provide so much more than just a place to live. It's no wonder these residents, volunteers, and workers want to give back to the community--and do."