While the Hispanic population in the Pittsburgh area is less than 1%, the Pittsburgh Field Office and the Greater Pittsburgh Federal Executive Board conduct active outreach to ensure that this growing population is aware of HUD opportunities and homeownership products.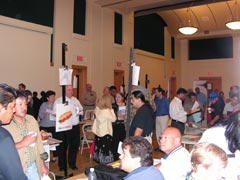 Hispanic Job Fair at Carnegie Mellon University.
One activity is a Job Fair. On Sunday May 6, 2007 the Pittsburgh Field Office joined the Hispanic Employment Program Committee of the Federal Executive Board in presenting a Hispanic Job Fair at Carnegie Mellon University.
In addition to the 12 federal agencies that were represented, 12 privately owned corporations were on hand to recruit as well as to provide information. A lively crowd of approximately 150 job seekers enjoyed the networking opportunity afforded them by all exhibitors present.
Translation services were readily available at all times and were used quite frequently.
Operations Specialist, Cynthia Haines, displayed an array of translated HUD materials on opportunities for contracting with HUD, Section 3, fair housing and internships. With translation assistance provided by the job fair, she was able to engage in conversation with all job seekers.