Kentucky Commission of Human Rights (KCHR) Housing Compliance Supervisor, Cindy Thornburg Schnell and Commission Chair Priscilla Johnson, a long-time fair housing and human rights advocate represented KCHR. As a HUD-funded Fair Housing Assistance Program, the Kentucky Commission investigates housing discrimination complaints throughout the Commonwealth. Representing HUD was Louisville FHEO Center Director Vicki Ray.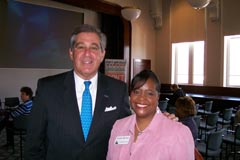 Metro Mayor Jerry Abramson and Christie McCravy, The Housing Partnership, Inc.
Although there is still work to be done, many barriers have been overcome through the years, and today the citizens of Kentucky are steadily moving toward equality and reconciliation. Our fair housing partners throughout the Commonwealth are taking an active role in continuing to fight discrimination in housing. Their goal is to ensure equal rights in housing choice for all citizens regardless of race, color, religion, sex, national origin, familial status or disability.
---
Metro Louisville Don't Borrow Trouble (DBT) Coalition, in conjunction with the Metro Louisville Government, recently kicked off the Don't Borrow Trouble campaign press conference and "Neighborhood Blitz".
The DBT campaign is a public education initiative aimed at stopping predatory lending practices in the Commonwealth. The campaign, administered by The Housing Partnership, Inc. (Louisville) and the Kentucky Housing Corporation (statewide), is supported by a coalition of partner organizations that include non-profit housing groups, government agencies, financial institutions, housing and homeownership counseling organizations, Fannie Mae and Freddie Mac. The campaign seeks to educate families and individuals about how to avoid predatory lending scams and about available community resources.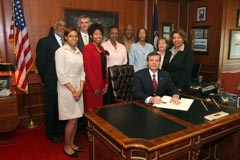 Governor Ernie Fletcher surrounded by professionals in the fair housing field.
The Honorable Jerry Abramson, Metro Mayor of Louisville, captured the audience's attention as he opened the press conference with poignant remarks about the staggering increase in the number of foreclosures that have affected homeowners in the Louisville Metro area. Statistics were provided by the Metropolitan Housing Coalition. The audience was also given the opportunity to hear from "Cindy", a homeowner who at one point in time faced foreclosure. "Cindy" told how she and her family experienced the devastation of a predatory loan, but with the assistance of The Housing Partnership, Inc. and the DBT program, "Cindy" was eventually able to save her home from foreclosure. Louisville Field Office Director Krista Mills and Louisville FHEO Center Director Vicki Ray attended the event on behalf of the Department.
Ms. Ray also participated in the Metro Louisville Don't Borrow Trouble (DBT) Coalition's "Neighborhood Blitz". Participants canvassed local businesses in the neighborhoods that had the largest number of foreclosures during a specified period of time. Informational flyers were distributed and participants engaged residents and business owners in conversations about the dangers of predatory loans and the availability of the DBT campaign to assist them.