Over 150 family and friends were in attendance to proudly observe 75 graduates receive certificates in their name from HUD's Neighborhood Networks' (NN) program. A total of 120 individuals have graduated from the Center's formal computer training program(s) within the past nine months. The 75 graduates attended the ceremony on Friday, May 18, 2007. The evening's festive ceremony was held in a nearby Lutheran Church.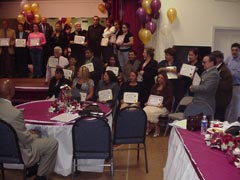 Graduates proudly display certificates.
Pico Union Housing Corporation's (PUHC) graduates primarily consist of low-income, immigrant populations. They range in age from young adults to a number of senior citizens. One person in particular was 80 years of age. He graduated from the advanced computer class.
HUD Staff from the Los Angeles Field Office (LAFO) attended the Neighborhood Networks Center's graduation ceremony. It was held near Pico Union Housing, a HUD scattered housing site in the City of Los Angeles consisting primarily of Section 8 residents. The NN Center not only serves residents of the housing site but the surrounding neighborhood. It is under the direction of Pico Union Housing Corporation (PUHC.)
LAFO Multifamily Hub's Donald Freeman and Field Policy and Management's (FPM) Stephen Clark were invited and represented the Field Office. Mr. Freeman is the Hub's NN Coordinator. Mr. Clark provided overall technical assistance to Pico Union in the areas of financial literacy-education, home buying education, and other related workforce development programs. FPM has brokered relationships with other community-based organizational resources on behalf of the housing site. Their goal is enhanced capacity and to provide a wide range of program services to Pico Union residents.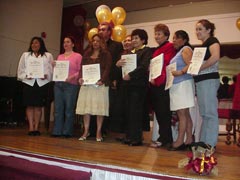 Executive Director and Instructor with graduates.
The area's City Councilperson - representing the City of Los Angeles - made a brief appearance and handed out certificates to the graduates of the Center's advanced class. The Councilperson acknowledged HUD's efforts in supporting the Center. For the rest of the ceremony, HUD's NN Coordinator presented the remaining certificates (by name) to the waiting graduates. Many of them acknowledged the FPM staff. They truly thanked HUD and were very grateful. For a number of them this was the first award they've ever received.
Pico Union Housing Corporation is a community-based organization. Its mission is to develop and preserve affordable housing. Their emphasis is on resident ownership, establishing effective community organizations and facilities, and the creation of economic development activities that will benefit their low-income constituents. PUHC has been a recognized development organization for over 35 years. It presently owns and operates 885 units of affordable housing. They target 100% of their housing programs to serve low- and very low-income families.
The goals of PUHC are to reduce the dependence in welfare, reduce the unemployment index, decrease school drop out rates, and assist its constituents in creating wealth. PUHC hopes to meet these ambitious goals by assisting youths to enter the workforce in jobs that are in high demand and pay a living wage.
For more information visit Pico Union Housing and its Neighborhood Network Center (www.puhc.org/)