On April 20, 2007, at the beautifully restored historic Russel Erskine Building in downtown Huntsville, Alabama, Bob Young, HUD Regional Director, Region IV presented Mayor Loretta Spencer a Preserve America Community designation signed by First Lady of the United States, Laura Bush. The ceremony recognized the City of Huntsville for efforts to preserve its rich historical heritage.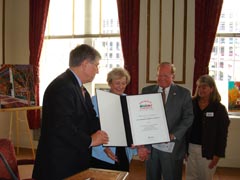 Regional Director Bob Young, Mayor Loretta Spencer, Huntsville CD Director Jerry Galloway, Huntsville Historical Society.
Nearly 100 community members including 25 elderly residents of the Russel Erskine Apartments, leaders of the main downtown civic and development organizations, and representatives of historic preservation organizations attended the ceremony. Characters from Huntsville's past joined the ceremony, courtesy of the Huntsville Historical Society (see picture accompanying.)
New owners purchased Russel Erskine during the restructuring of its mortgage under HUD's Multifamily Mark-To-Market program. Aware of the building's significance to the community, the owners went far beyond HUD's requirements to completely restore the first floor, including the ballroom in which the ceremony was held. Participants in the designation ceremony reminisced weddings, proms and parties held at the hotel before it was converted to senior housing.
On the following Monday, HUD Field Office Director Cindy Yarbrough announced Huntsville's designation before 1000 of Mayor Spencer's colleagues at the Alabama League of Municipalities Annual Conference, in Huntsville, Alabama. Ms. Yarbrough made the presentation at the luncheon following a speech by Lieutenant Governor Jim Folsom.
Following the luncheon, the HUD Field Office also made a presentation on America's Affordable Communities Initiative to approximately 70 municipal officials in a workshop setting at the League Conference. Several mayors expressed interest and invited HUD to meet with them to explore solutions to their affordable housing problems.