WASHINGTON - What does world class barbeque have in common with keeping children safe and healthy at home? The 15th Annual National Capital Barbeque Battle held June 23-24th on the Washington Mall, provided the perfect opportunity for the U.S. Department of Housing and Urban Development to demonstrate ways parents can protect their children from a variety of home health and safety hazards.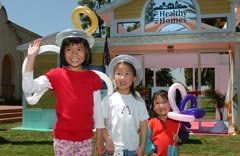 Children in front of the Healthy Homes Pavilion.
HUD launched the "Healthy Homes for Healthy Kids' campaign last year as part of a three-year, 30-city campaign to provide housing and health information to those most vulnerable, especially low-income families with young children, in urban communities with older housing stock. The objective of the Campaign is to educate parents about lead poisoning prevention and other housing-related health and safety issues, many of which they may not even be aware of.
The Campaign events include a traveling demonstration pavilion for educating residents of housing-related hazards and for disseminating information about ways to protect you from these hazards. The pavilion focuses on hazards from lead paint, but also provides educational materials on carbon monoxide, home safety, safe pest control, mold, and other housing-related illnesses, such as asthma and allergies. Demonstration tours are conducted to educate the public about these health and safety issues in the home.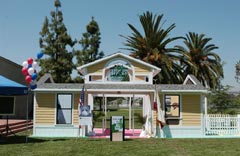 HUD Healthy Homes Pavilion.
The Healthy Homes for Healthy Kids Campaign will continue over the next two years to promote an awareness of lead and other housing-related hazards, including allergens, mold, pesticides, carbon monoxide, by utilizing multi-media outreach strategies and methods targeting urban, multi-cultural communities.
Every year, doctors inform parents that their children have been poisoned by dangerous lead-based paint. Public health officials report an alarming increase in the number of children suffering from asthma triggered by common conditions in their own homes. HUD is awarding $162 million this year alone to address lead and other hazards in housing. This funding will control these hazards, conduct research, educate housing contractors, and provide outreach to the public. This Campaign is a critical part of the Department's combined approach of controlling hazards and helping families and landlords avoid creating them by giving them the information they need. This Campaign is also part of a national commitment to eliminate lead poisoning in children by 2010.
Lead Hazards
In older homes built before 1978, deteriorating lead-based paint can present a serious health hazard, particularly in children under the age of six. Lead exposure causes reduced IQ, learning disabilities, developmental delays, reduced height, poorer hearing, and a host of other health problems in young children. In later years, lead-poisoned children are much more likely to drop out of school, become juvenile delinquents and engage in criminal and other anti-social behavior.
At higher levels, lead can damage a child's kidneys and central nervous system and cause anemia, coma, convulsions and even death. According to the Centers for Disease Control and Prevention, more than 310,000 of the nation's 20 million children under the age of six have blood lead levels high enough to impair their ability to think, concentrate and learn. To prevent lead poisoning in children, parents can teach good hand-washing practices, clean hard surfaces with a wet mop or rag, and use a HEPA (high-efficiency) vacuum when cleaning carpets.
Asthma and Allergies
Asthma attacks can be triggered by common allergens in the home including mold, dust mites, rodent droppings and excess dust. To reduce these risks, "Healthy Homes for Healthy Kids Campaign" will inform parents about a number of simple ways they can protect their kids. These techniques include: Wash bedding in hot water, greater than 130° every week; use dust mite pillow cases and mattress covers; eliminate cockroaches using gel baits, sealing outside cracks and storing food properly; and, maintain a well ventilated home.
Mold and Moisture
Mold and moisture can significantly increase allergens in the home that can trigger asthma and other illnesses. The key to mold control is moisture control. After storm damage, or perhaps a leaky water pipe, significant levels of moisture can be introduced into homes, giving mold a foothold to grow in wet and warm conditions. It is critical to eliminate the source of the moisture and to dry water-damaged areas as quickly as possible to prevent mold growth.
Partnering
As part of National Homeownership Month, the Office of Healthy Homes will be partnering with the Federal Housing Administration (FHA) who will also be represented at the Pavilion. FHA will share information about creating affordable housing opportunities for low-income Americans, expanding homeownership opportunities to minority populations, and providing families with the highest confidence and insight into the home buying process.
##
HUD is the nation's housing agency committed to increasing homeownership, particularly among minorities; creating affordable housing opportunities for low-income Americans; and supporting the homeless, elderly, people with disabilities and people living with AIDS. The Department also promotes economic and community development, and enforces the nation's fair housing laws. More information about HUD and its programs is available on the Internet at www.hud.gov and espanol.hud.gov. For more information about FHA products, please visit www.fha.gov.