You may have watched Home Improvement shows on television. If you were in Morgantown, you could have witnessed something similar. A special event was planned in honor of National Homeownership Week. The Morgantown Housing Authority sponsored an affordable housing Home Improvement Blitz. In just three days, the Housing Authority completed a total home makeover.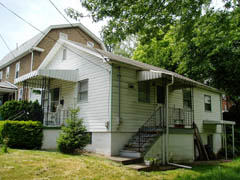 The event recognized existing homeowners and the needs for ongoing maintenance, home rehabilitation and adaptations. A total of four licensed contractors volunteered to donate their time for the labor on this project. There was incredible support from the local businesses who generously agreed to donate items such as flooring, windows, deck materials, housing materials etc. The remainder of the building items were purchased with the CDBG funds from the City of Morgantown's Housing Rehabilitation Program. The recipient was a low income homeowner living within the City limits of Morgantown and an applicant of the CDBG Housing Rehabilitation Program's waitlist. Her home was in need of major renovation, as well as accommodations for accessibility. The rehab plans for the exterior included new siding, new windows, new roof, new porch railings, new sidewalks and updated landscaping. The interior plans included total replacement of bathroom- providing a more accessible shower area, relocation of laundry from basement to first floor, new flooring throughout, new kitchen countertops, updated lighting and more. With donations and contributions from local home furnishing stores, we were able to provide some new interior furnishings.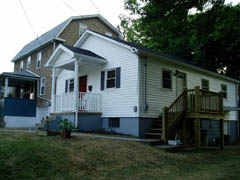 After spending a few nights at a local hotel, our homeowner returned to her home to find all repairs completed. She was greeted with a Welcome Home Celebration and reveal of her new home. Volunteers, sponsors, friends, family and members of the community were present to welcome her back to her home.
In total, we estimate home repairs in the amount of $60,000. There was approximately $7500 spent in CDBG funds. The remainder of the expenses was received in donations of materials and labor.
###